It's no secret that cruise ship staterooms are small. ALL cruise rooms are small unless you are super rich or a celebrity and happen to score one of the presidential suites or big suites. It's not a big deal because most people just know that space will be tight in their room. You don't spend a great deal of time in your room on a cruise anyway unless you are getting dressed or sleeping.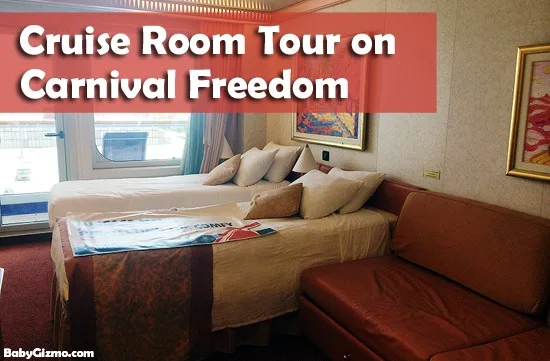 The great thing about cruiselines these days is that they have really done a good job maximizing what little space they have to work with. They have beds that pop out of the ceilings, plenty of storage space (under the bed and big closets!) and even give you a couch to rest your bum on.
A couple of weeks ago we sailed on the Carnival Freedom for an 8-day Southern Caribbean cruise. We've been sharing our experiences in different posts throughout the weeks. Last week we talked about Camp Ocean and our day in Curcacao but today we are giving you a room tour. It's just a good way to show you what you can expect when you book your cruise.
If you'd like to check out our Travel Journals while we were on the boat, you can see those here:
Disclosure: This trip is part of a Carnival media press trip. As always, all our thoughts, opinions and statements are our own.