So much holiday baking to do – so little time! Today I'm sharing a super yummy (and easy!) recipe for the holidays. Rice Krispie treats are not only for kids. If you make them like we are today, it becomes a fabulous holiday dessert that not only kids will love but adults will too! We are mixing up the traditional Krispie Treat and adding in peppermint flavor with the Kraft Peppermint Mallows, making them into balls and dipping the entire thing in chocolate. Who doesn't like chocolate, right?!? You could probably dip a shoe in chocolate and I might eat it. 🙂
These holiday balls are so easy to make and you could even use them for a cookie exchange if your party host allows that sort of thing. Yes, clearly I have an issue with making balls because you can find my other ball recipes Oreo Truffle Snowballs, Oreo Truffles or Peanut Butter Graham Cracker Balls. You can watch the tutorial below or you can follow the recipe below that.

Chocolate Peppermint Rice Krispie Balls
Ingredients:
3 tbsp butter
6 cups Frosted Rice Krispies Cereal (or regular Rice Krispies!)
1 – 10 ounce bag of Kraft Peppermint Marshmallows
2 – 12 ounce bags of Nestle Semi-Sweet Morsels (or whatever chocolate you'd like!)
Preparation:
1. Make your traditional Rice Krispie Treats using Kraft Peppermint Marshmallows instead of regular ones. Melt butter on the stove with medium heat. Add entire bag of peppermint marshmallows and stir until completely melted. Remove marshmallows from heat and mix in 6 cups of Frosted Rice Krispies Cereal. Mix until completely combined.
2. Transfer krispie treat mixture into a slightly buttered pan. Let the treats sit for 10 minutes so that they won't be as sticky when you are making them into balls.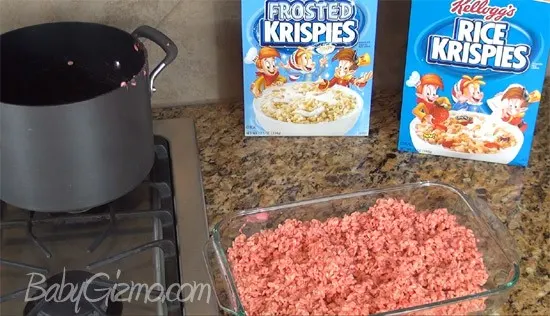 3. Grab a handful of krispie treat mixture and squish and roll into a ball. You can make the balls as little or big as you would like. Set the krispie ball on a wax paper covered pan or plate. Repeat with remaining krispie treat mixture.
4. Put the plate of krispie balls into the freezer for 15-30 minutes or until they are chilled.
5. While the krispie balls are chilling, melt the chocolate in the microwave. For each 12 ounces of chocolate that you melt, I add 1 tbsp of canola (or vegetable) oil to thin the chocolate out slightly so that it is easier to work with.
6. Remove krispie balls from the freezer and using a fork, dip each ball into the melted chocolate. Shake slightly to let the excess chocolate drip off and then set on a wax paper covered tray.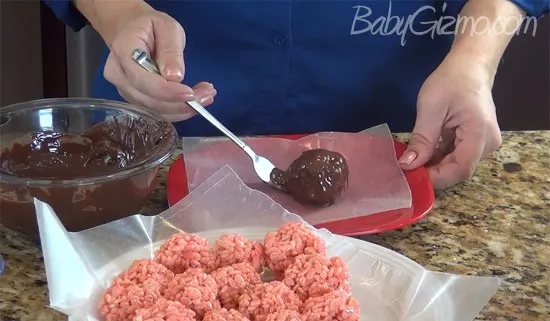 7. Sprinkle with Andes Peppermint Crunch or the holiday sprinkles of your choice.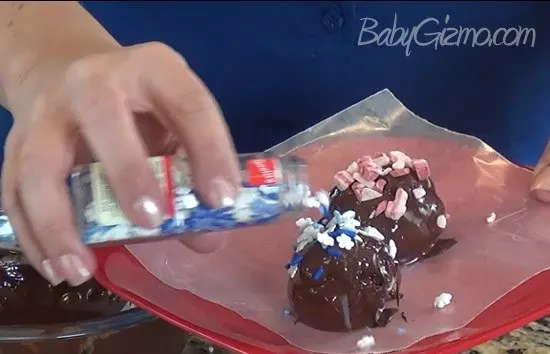 8. Repeat the dipping and sprinkle process with all the remaining rice krispie balls. Put into the refrigerator for at least 15 minute for the chocolate to set.
9. That's it! Enjoy!
*I recommend storing these treats in a covered container in the refrigerator. They can be served cold or a room temperature. (Don't serve them frozen!) For more holiday desserts, HOLIDAY CHEX MIX, CINNAMON ROLL SUGAR COOKIES AND CHRISTMAS CUPCAKES.