Let's all pause for a moment and stare at that creamy caramel apple dip goodness.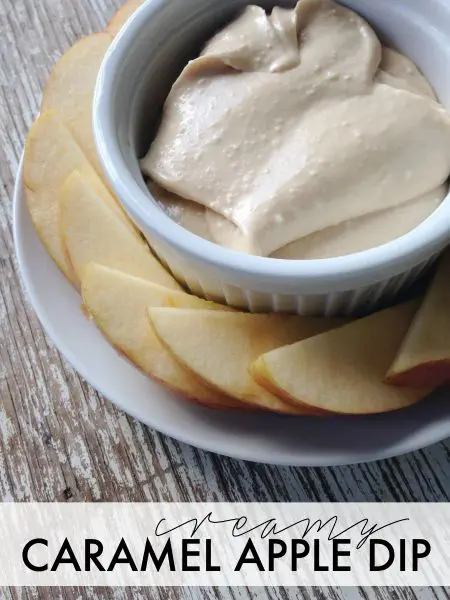 I promise, it's sinfully delicious. A true harvest treat and the perfect pairing for all those crisp apples filling our grocery carts these days. Two of my friends recently had babies and they received this as their dessert when I delivered a meal and then I rushed home to make a batch for my family too. That good. A total autumn win and one we'll be resurrecting every year!
Ready to whip up your own creamy caramel apple dip inspired by this recipe? It's simple and takes less than 10 minutes!
INGREDIENTS
1/3 cup water
One, 16 ounce package of Werthers soft caramels, unwrapped
2 teaspoons vanilla
1/4 cup brown sugar
8 ounces of cream cheese, softened
CARAMEL APPLE DIP DIRECTIONS
Over medium heat, warm your water and plop in each of your unwrapped caramels. Stir until completely melted. Remove from heat.
Immediately stir in brown sugar and vanilla, then cream cheese. Gently stir and then break out the hand mixer. It helps get everything super smooth and incorporated.
Pour Caramel Apple Dip into a serving bowl, slice your apples and enjoy!
MORE APPLE RECIPES
Breakfast Puff Pie with Apple Compote