It's that time of year again – time for another homemade birthday cake! No store bought cake here! This is a tradition that I have been doing for each of my children for 16 years. Yep, my oldest turned 16 this week. I'm not old, you're old. Last year was the Rainbow Sprinkle Funfetti Cake and the year before was the Pink Ombre Cake. And don't forget the adorable Rainbow Unicorn Cake before that. This year is the Dark Chocolate Strawberry Cake with Strawberry Buttercream Frosting.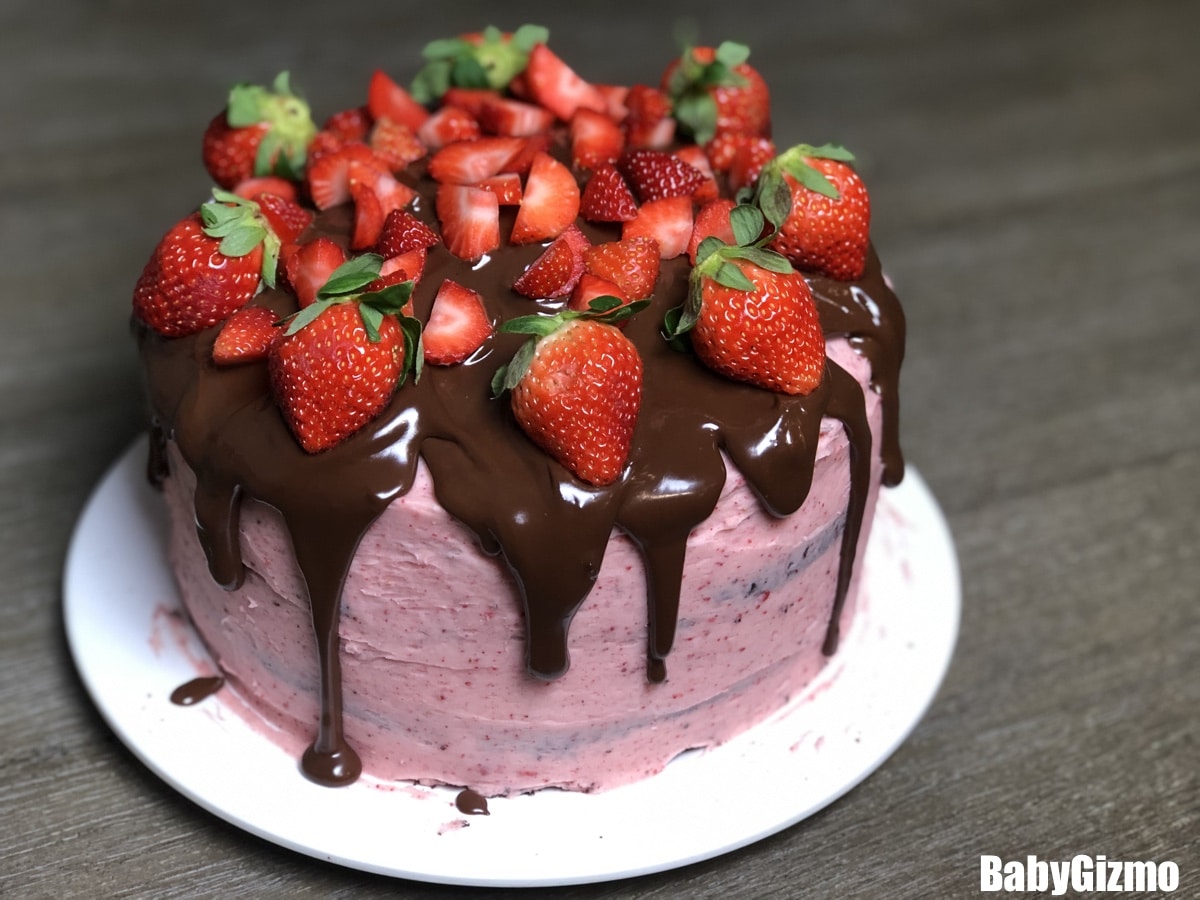 Each year the kids can decide what type of cake they want (or no cake-cake) or they can leave it up to me to surprise them. My daughter wanted a surprise this year, and boy was she surprised. This Dark Chocolate Strawberry Cake turned out exactly like I envisioned and I think it is one of my BEST cakes to date.
The dark chocolate cake was made from scratch (no box here!) and was moist and delicious. The chocolate ganache was PERFECT. And this was the first time I made a strawberry frosting and it was so easy to make that I can't wait to make other flavors of buttercream. Who's birthday is next?!?
Everything came together beautifully on this cake and it was actually quite easy to make even though it looks like it took a long time.
STRAWBERRY BUTTERCREAM FROSTING
I didn't realize how easy it is to make Strawberry Frosting with strawberry powder but now I'm excited to make all types of different flavors of buttercream. Since I used freeze-dried fruit to blend into powder to use to get the strawberry flavors, I think other flavors of frosting are on the horizon. If I can get the freeze-dried fruit, I'm making frosting. How about Blueberry Buttercream or Banana Buttercream or Raspberry Buttercream?
I was so excited about the buttercream that I gave you a quick step-by-step Strawberry Buttercream Tutorial on the blog this week if you'd like to check it out.
NOTE: I would NOT really recommend using fresh strawberries or frozen strawberries to make the buttercream instead of powder because the extra moisture from fresh strawberries might break your buttercream and it will be much harder to deal with. Just stick with the powder.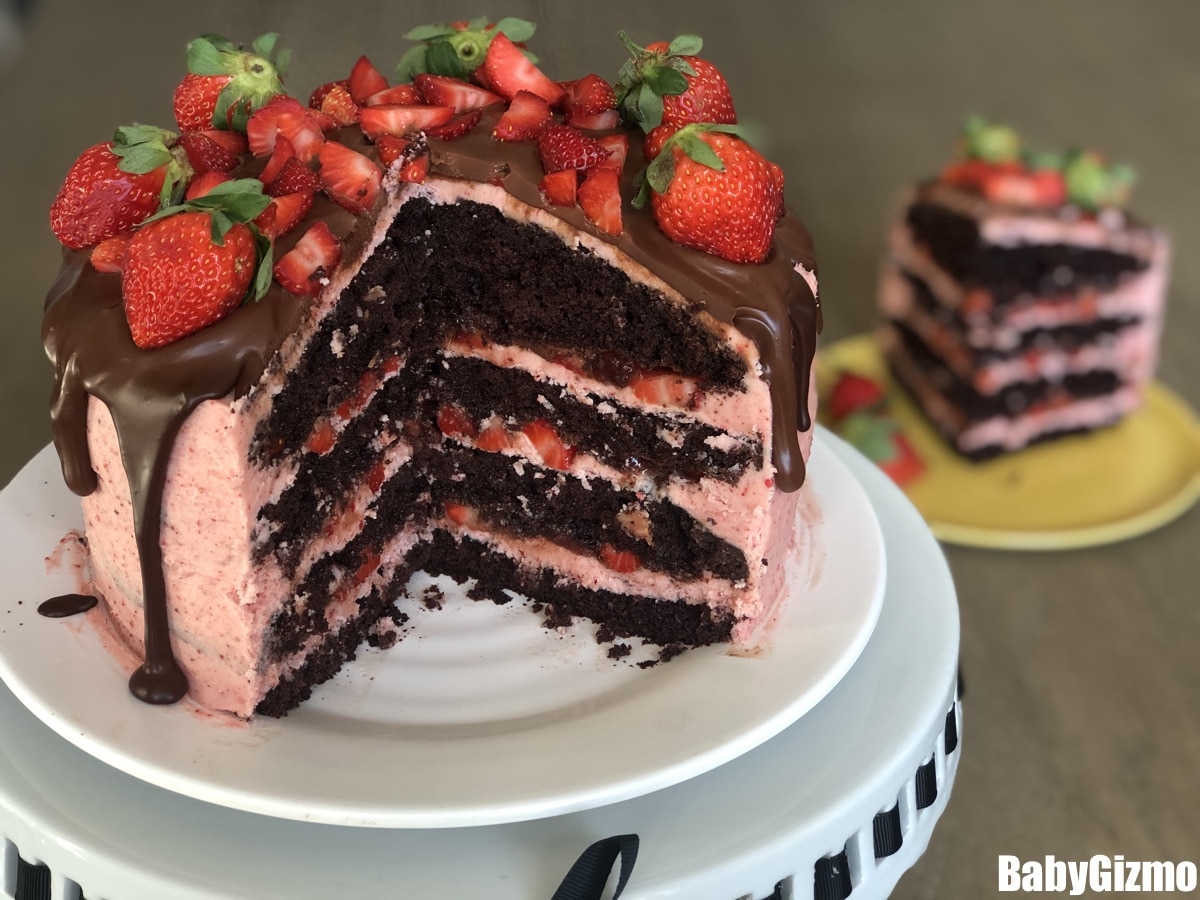 HOMEMADE CAKE OR BOXED CAKE
I know that I've said I was a boxed cake kind of girl in the past but this cake may have converted me. This dark chocolate cake was so easy to put together and tasted so yummy that I'm not sure how often I will use boxed cake mixes in the future.
If you were hesitant about the "extra work" of a homemade, from-scratch cake in the past, don't be. Go for it. It doesn't take that much more time and the result can be fantastic if you have the right recipe.
DARK CHOCOLATE CAKE LAYERS
This cake recipe makes a perfect 4 or 6 layer cake. If you use three 6″ round pans, you can get 6 thin torte-like layers when you cut them in half after they are baked and cooled. If you use two 8″ round pans (this is what I used!) then you get 4 layers but a slightly larger cake in diameter (but not as tall!) The more layers, the more yummy frosting, fresh strawberries and chocolate ganache in the inside of the cake.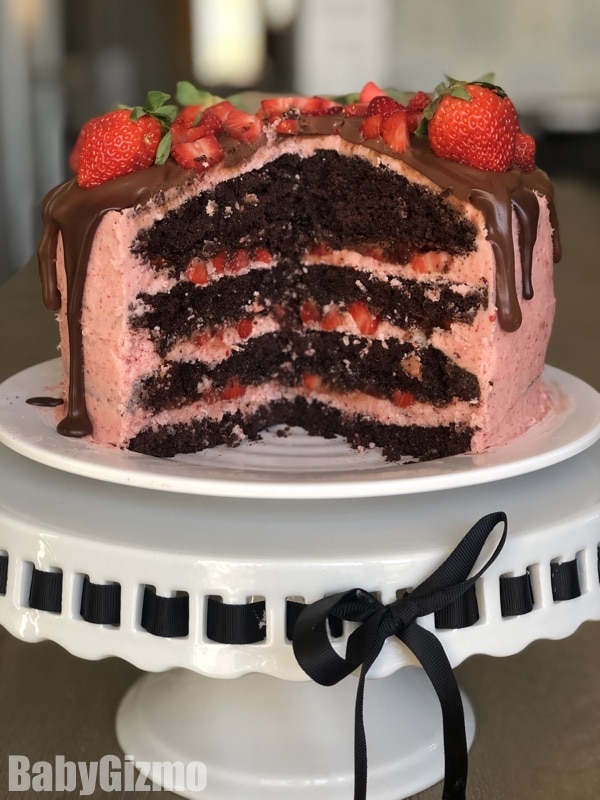 CAKE FILLING
The filling is EVERYTHING in this cake. Fresh strawberries, strawberry preserves and chocolate ganache make this cake and this is what the inside of the layers look like when you are assembling.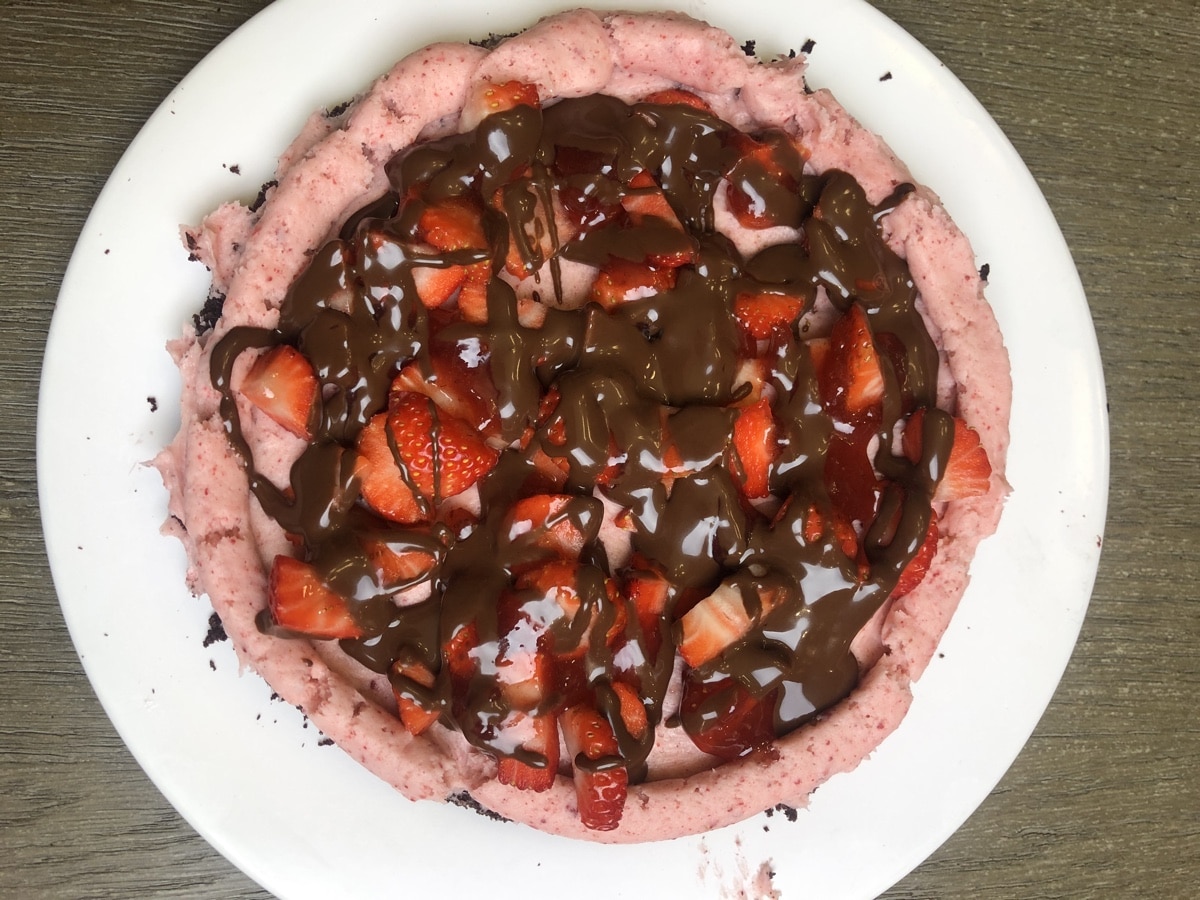 Here is what the layers of cake look like when you are assembling one layer over the other.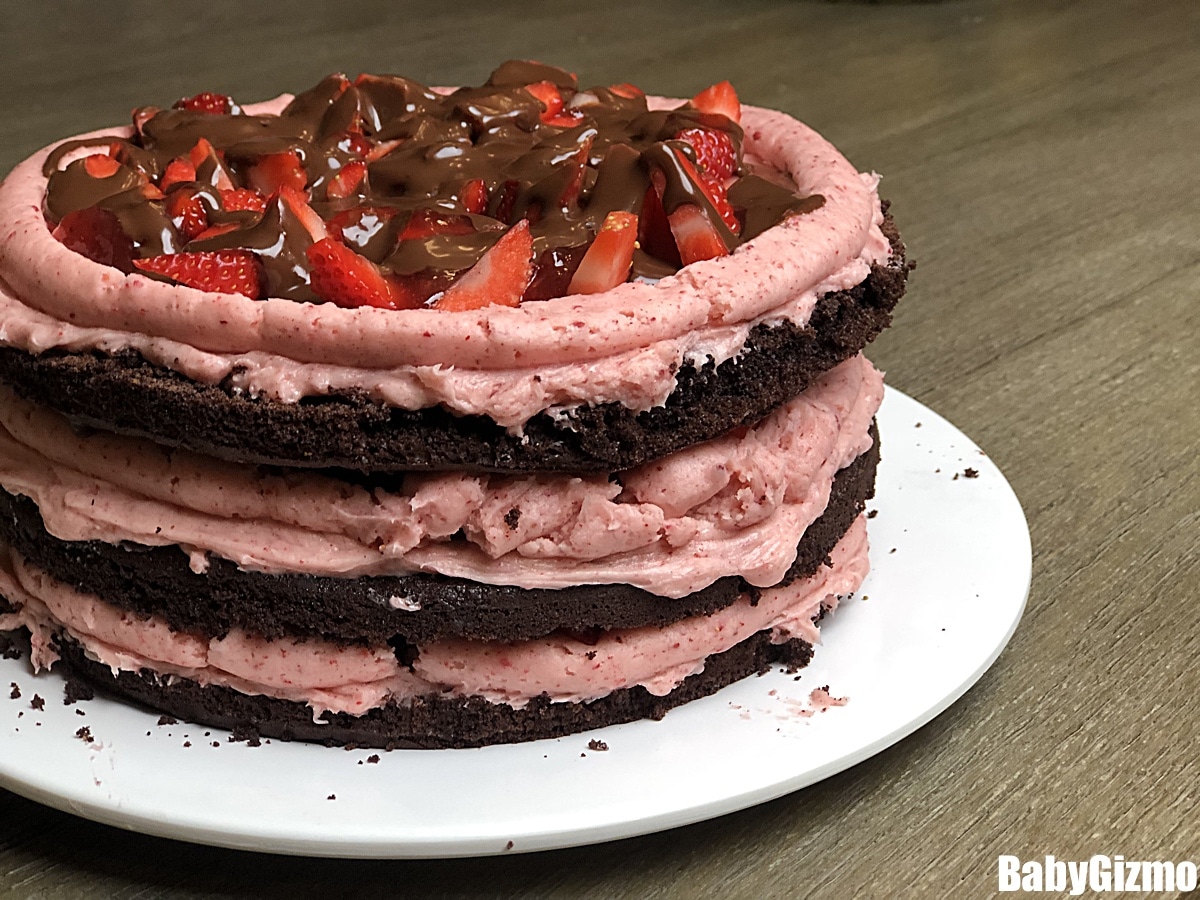 Here's what the top of the cake will look like when it is complete. Delicious!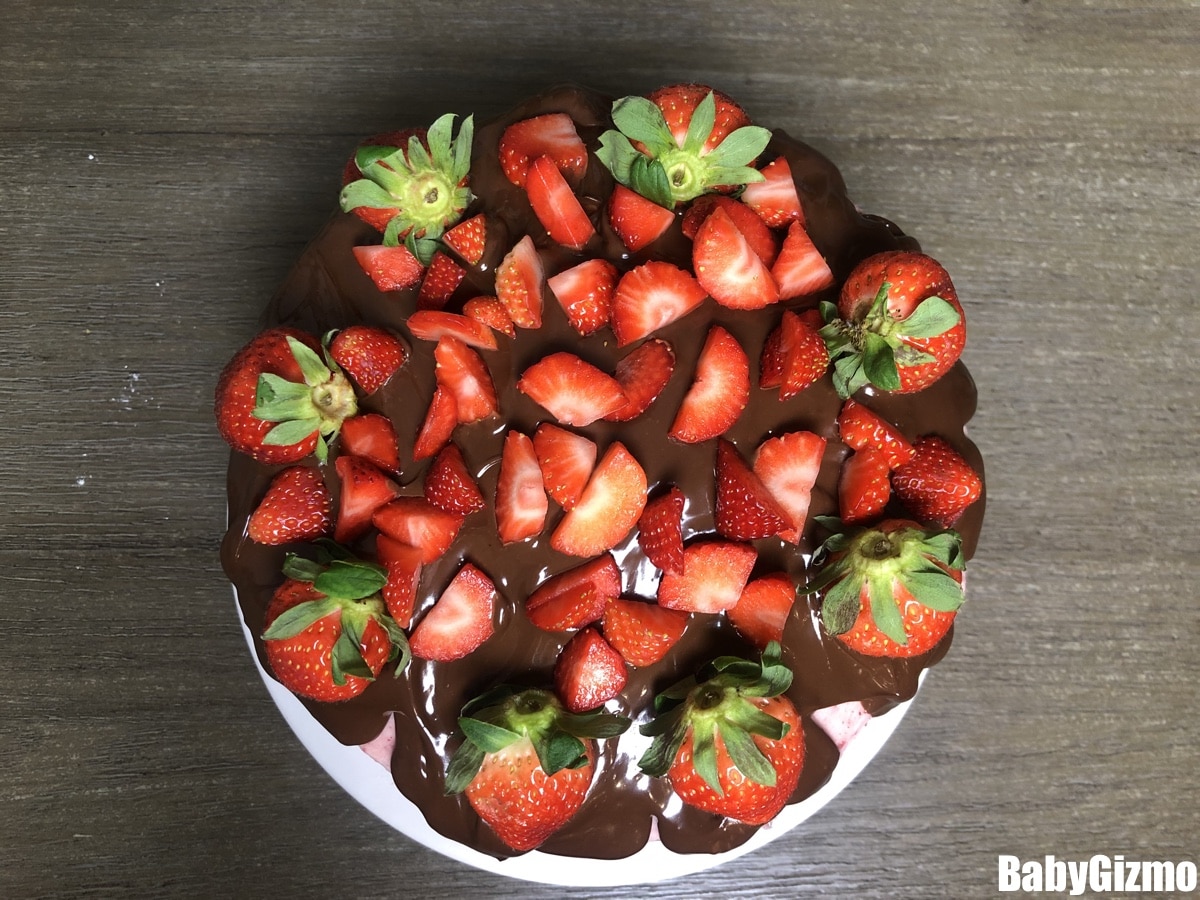 EXPERT TIPS FOR MAKING THE BEST DARK CHOCOLATE STRAWBERRY CAKE
Always properly measure your ingredients, especially your flour. As with all baked goods, you don't want to over-measure your flour, it will change things in your recipe. Make sure you spoon your flour into a measuring cup instead of digging your measuring cup into the bag/container of flour.
Don't try to make the Strawberry Buttercream with real strawberries. Stick to the powder yo make with freeze-dried strawberries and you'll have a lot less hassle.
Freeze your cake layers before you assemble the cake. It will be much easier to frost that way.
The more fresh strawberries and chocolate ganache on the top, the better.
Keep the cake refrigerated to keep the fresh strawberries lasting longer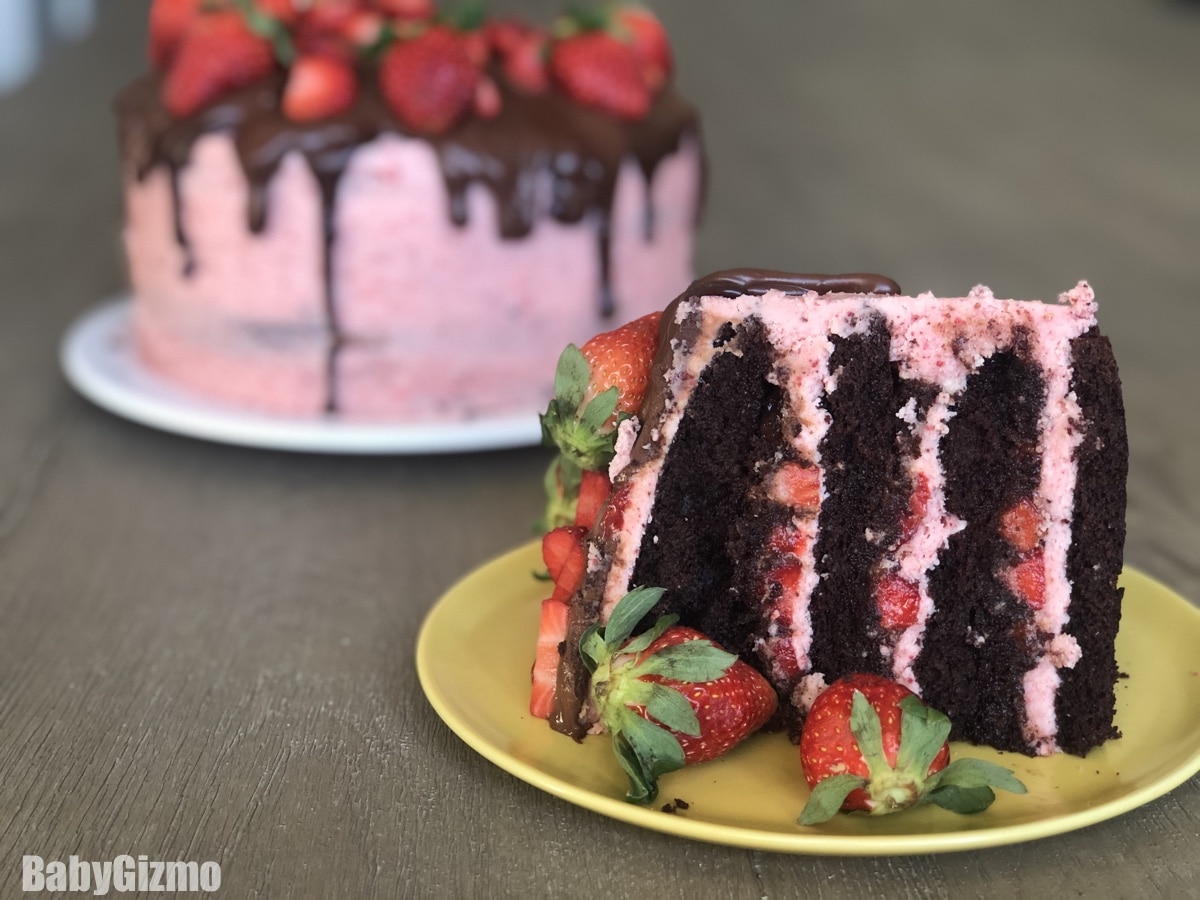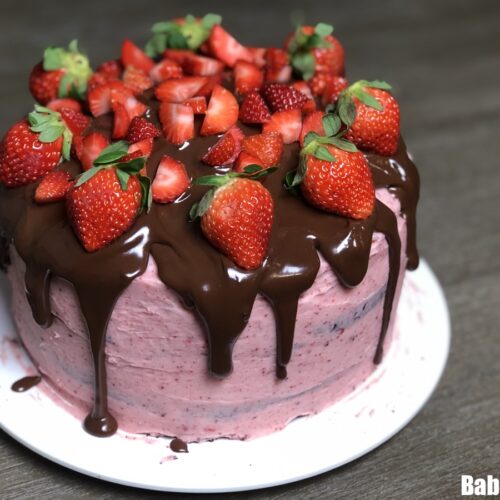 Dark Chocolate Strawberry Cake
This homemade dark chocolate cake frosted with a delicious strawberry buttercream frosting and layered with fresh strawberries and chocolate ganache is so easy to make.
Ingredients
Instructions
DARK CHOCOLATE CAKE
Preheat oven to 350 degrees. Line two 8-inch pans with parchment paper rounds and spray with non-stick spray or grease with Crisco. (NOTE: You can use three 6-inch pans if you'd like)

Combine the sugar and butter in the bowl of a stand mixer and blend for 1 minute.

Add in the eggs, one by one. Add baking powder, baking soda and salt. Mix for one minute.

In a separate bowl, add cup of hot water (not boiling), cup of buttermilk and cup of dark cocoa and whisk until mixture is smooth. Set aside.

Add 1 cup of flour into the butter/sugar/egg mixture. Mix until flour is completely incorporated.

Add the buttermilk/cocoa mixture into the flour mixture and gently mix until completely combined. Do this slowly or it will make a mess.

Add 2nd cup of flour and mix at low speed until flour is mixed in.

Divide the batter evenly between your prepared pans

Bake for 35-40 minutes or until toothpick comes out clean.

Set layers aside to cool for 10 minutes. Remove layers from pans and freeze cake layers for about 45 minutes while you make the buttercream frosting and ganache.
STRAWBERRY BUTTERCREAM FROSTING
Blend 1 oz of freeze-dried strawberries in a blender or food processor completely until you get a strawberry powder. Set aside.

Beat butter in a stand mixer (or with a handheld mixer) for 30 seconds until smooth.

Add in strawberry powder, vanilla extract and salt. Blend on low until combined.

Slowly add in one cup of powdered sugar at a time and alternate with small amounts of cream until you have used all powdered sugar and cream.

Add in lemon (or lime) juice.Beat on low until everything is combined and you get the consistency you are looking for. NOTE: To thicken up the frosting, add more sugar. To thin it out, add more cream.
CHOCOLATE GANACHE
Heat heavy cream over medium heat on the stove in a small pan just until it begins to simmer. Remove from heat. (You can also microwave heavy cream in the microwave for 45 seconds to 1 minute)

In a heatproof bowl, add the dark chocolate chips.

Gently pour heated heavy cream over the chocolate chips. Let the mixture set for 1-2 minutes.

Stir the cream and chocolate until smooth.
DARK CHOCOLATE STRAWBERRY CAKE ASSEMBLY
Remove cake layers from freezer. Cut each cake layer in half horizontally with a serrated knife to create 2 thin cake layers from each layer.

Add one cake layer to a cake plate or any other plate you'd like the cake to be displayed on.

Add a thin layer of strawberry buttercream frosting on top of the cake layer.

Using a pastry bag, pipe a ring of strawberry buttercream around the edge of the cake layer to create a barrier for the filling. Sprinkle 1/3 cup of diced strawberries inside the ring. Drizzle about 1/4 cup of strawberry preserves and 2 tbsp of chocolate ganache over the strawberries.

Add second cake layer on top. Repeat frosting and filling for each cake layer.

Using the remaining strawberry buttercream frosting, frost the outside of the cake and make the frosting as smooth as possible. A bench scraper will help you achieve a smooth look but a frosting knife will also work.

Chill the cake in the freezer for about 20 minutes.

Remove from freezer and slowly pour the remaining chocolate ganache on top and allow the ganache to slowly drip down the sides. Sprinkle remaining diced strawberries on top. Carefully place the fresh (not diced) strawberries in a circle on top of the cake in the ganache.

That's it. Enjoy. Keep the cake refrigerated.
Nutrition
Calories:
874
kcal
Carbohydrates:
117
g
Protein:
6
g
Fat:
45
g
Saturated Fat:
29
g
Trans Fat:
1
g
Cholesterol:
147
mg
Sodium:
276
mg
Potassium:
278
mg
Fiber:
3
g
Sugar:
92
g
Vitamin A:
1375
IU
Vitamin C:
39
mg
Calcium:
107
mg
Iron:
2
mg