The classic grilled cheese sandwich is totally my jam. But what I really love is a fancy grilled cheese.
Grilled cheese is as simple as recipes get, delicious, and can easily be modified for less adventurous eaters. So, while one of my kids requested "just cheese" and the other opted for "turkey and cheese, please" I was able to dress my own sandwich up with none other than muenster cheese, turkey, and homemade cranberry sauce leftover from the holidays. Yum!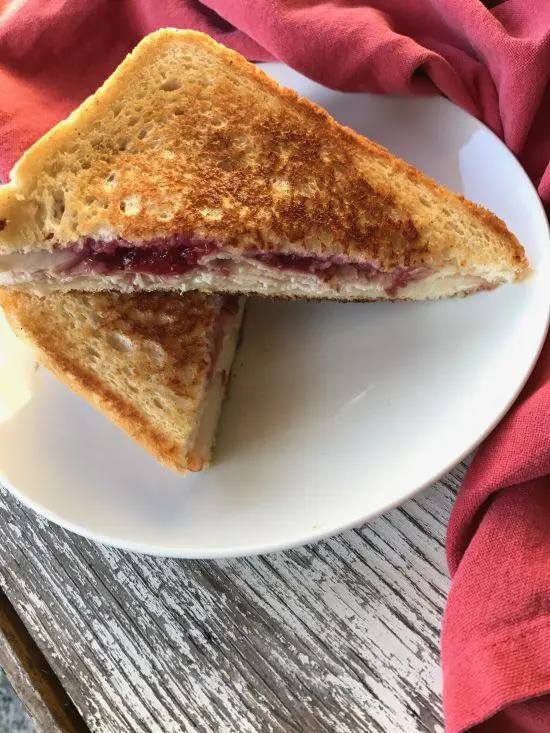 Ingredients
Sourdough bread
Butter
Muenster cheese
Sliced turkey
Cranberry sauce (homemade if you prefer, I love this recipe!)
Cream cheese
Directions + Tips
I'm partial to grilling my sandwiches in cast iron. I feel like they heat evenly, provide the crispest crust, and, of course, you yield all the health benefits of cooking in cast iron.
Rather than spreading butter on my bread, I opt to melt a pat of butter in my cast iron while it heats. Let your pan heat up for a few minutes while you prep your sandwich. First, add a thick layer of cream cheese to one side of bread, to the other a lot of cranberry sauce. In the middle stack sliced turkey and muenster cheese. Place in the pan, muenster side closest to the heat and cover with a foil tent or lid to trap the heat and aid in perfect grilling.
Reduce heat to low/medium and allow your sandwich to grill to perfection! Don't check it too often, more peek at the sides to see when the cheese starts to melt out the side a bit. Flip after a few minutes and know that the second side will grill a little fast than the first.
Now, why muenster? Muenster is a smooth cheese with a somewhat nutty flavor. It adds a fresh, distinct flavor profile to an otherwise classic grilled cheese and it is lower in fat than most other common cheeses.
Serve your amazing sandwich alongside sliced apples, potato chips, a pickle spear. I love having something crunchy to alternate bites with!
If you're a grilled cheese lover, be sure to take a peek at this recipe for grilled cheese sticks and homemade tomato soup shooters as well as this collection of fancy grilled cheese recipes!