Welcome to the heart of the home – the kitchen! It's time for Episode Four of At Home with Baby Gizmo and we are taking you inside the Baby Gizmo kitchen!
Our home has an open floor plan with the family room opening up into the eat-in kitchen. The kitchen table is a large table from Ashley Furniture that we've had for over 2 years that has held up wonderfully with my three crazy kids. NOTE: I always make them use placemats when eating at the table so that I can prevent as many scratches as I can.
CABINETS
We chose a trendy but traditional kitchen (is that possible?!?) with two different colored cabinets. The majority of the cabinets in the kitchen are antique white while the large, center island is a dark chocolate brown.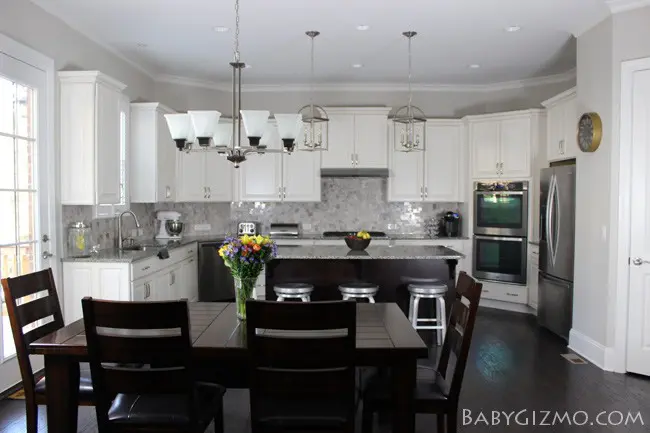 FLOORING
We have a dark hardwood throughout our first floor including our kitchen. Since it has that "hand scraped" appearance, it is perfect for a family with kids as it is durable and you won't obsess about every little scratch or mark. The flooring we have is a Shaw Nottoway Hickory in the "Stonehenge" color by Shaw Floors.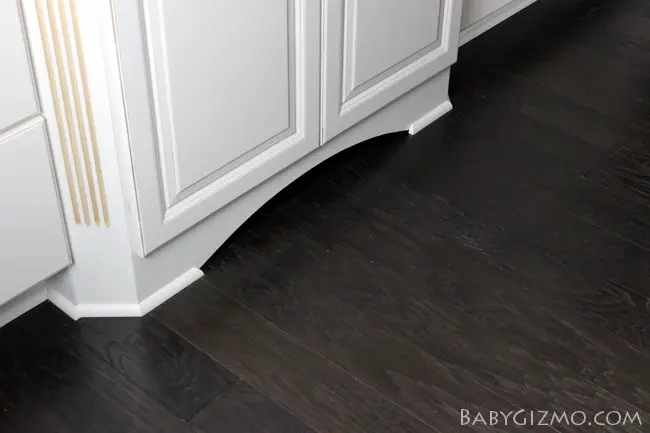 SINK, COUNTER TOPS AND BACKSPLASH
The counter tops throughout the kitchen are a grey speckled granite with an eased edge (there are MANY edges to choose from with granite!) in the color "Azul Platino." Instead of the ever popular two sided sink, I decided to mix things up a bit and go for the one big "farmer's sink" option and I love it. Big enough to clean pots and pans or even to soak the bowl of the Crockpot with no problem.
The backsplash in the kitchen is a natural marble Emser Tile and installed in a Versailles Pattern Mosaic laid straight.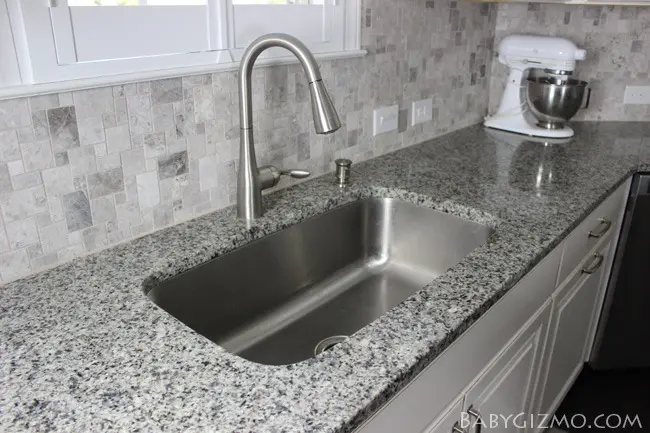 ISLAND STOOLS
The island stools that tuck underneath the counter top are the 24″ Spin Counter Stool by Crate and Barrel. If you decide to get these stools, make sure to measure your island height! We bought the 30″ stools first because they didn't look that tall in the store but when we got them home, they were WAY TOO TALL and you couldn't even sit up to the island on them. The 24″ stools are perfect for our island whether a child or adult is sitting on them.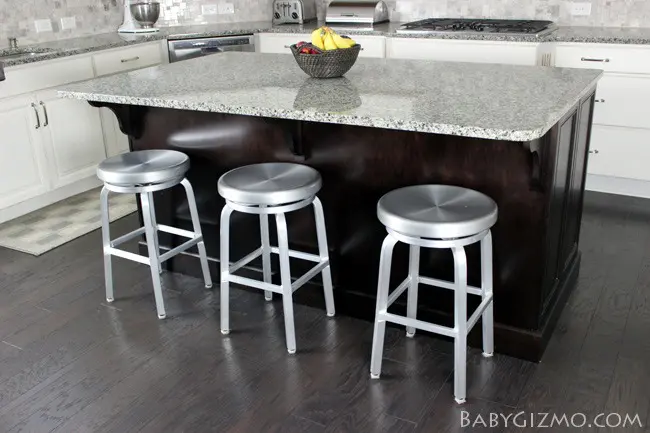 APPLIANCES
Our kitchen is stocked with Whirlpool appliances. We have a French Door Refrigerator, a double oven, dishwasher, 5-burner stovetop and a microwave.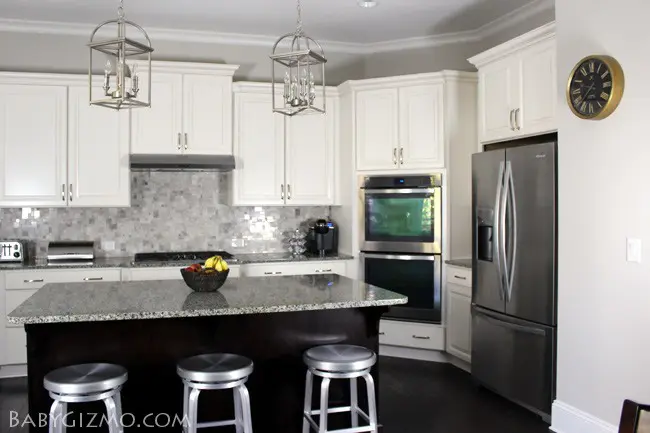 Since I insisted on a double oven (and that is usually where the microwave goes – above the oven!), I had to settle with my microwave being in my island. While it is lower and takes some getting used to, we don't mind it. It's NOT the best choice for a family with toddlers though. Good thing my five year old knows not to play with it!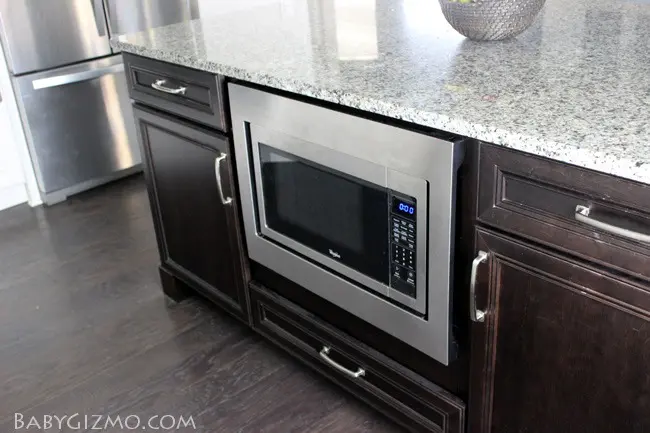 LIGHTING
Above the kitchen table, we have a North Park Collection 8-Light Brushed Nickel Chandelier and above the island are two Piedmont pendant lights.
WINDOW COVERINGS
The kitchen has two tall windows by the kitchen table and one smaller window above the sink. We again turned to Blinds.com to help us ultimately decide on Simplicity Shutters to match the rest of the 1st floor windows. We absolutely LOVE these Simplicity Shutters and can't say enough good things about them. If you think you can't install shutters yourself, you haven't seen the Simplicity Shutters yet because yes you can! We even recruited grandma to help! Yes, they are so easy to put up that even grandma can do it!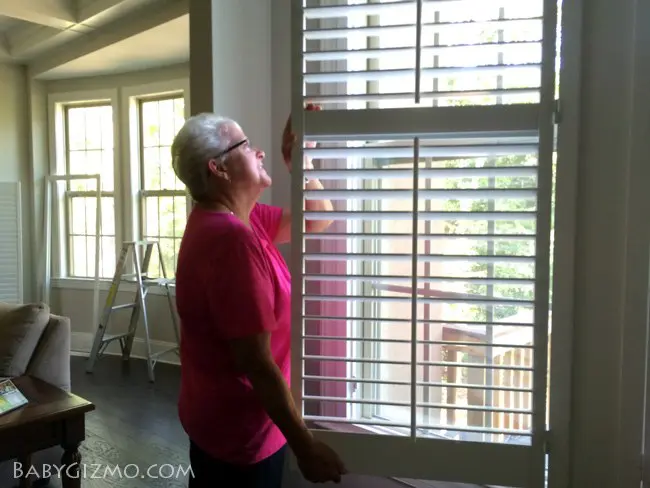 The shutters took less than 30 minutes to install all three and they look amazing! SHOP the Simplicity Shutters HERE.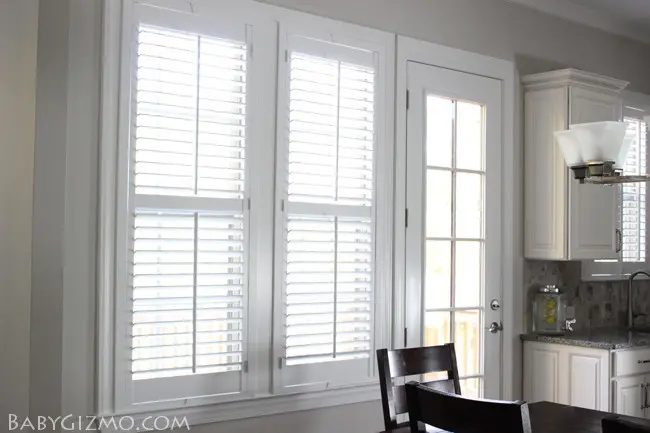 So, that's it! You've seen the amazing Baby Gizmo kitchen! Stay tuned for Episode Five in 2 weeks (on Thursday, November 13 at 9:00am EST on our YouTube channel) when we take a look into my office.
To celebrate Episode Four and the fact that it is still Window Safety Month (at least for the next two days!), we are doing a GIVEAWAY!! Woot! Woot!