Overnight Baked French Toast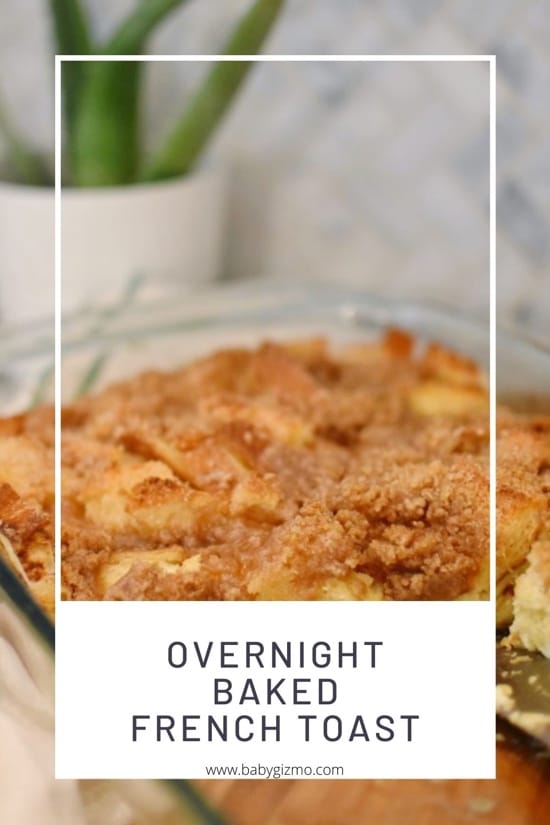 I've always been one who believes in breakfast. Nothing like starting the day with a hearty meal!
I'm raising my kids to feel the same way and together we enjoy a rotation of bacon and eggs, oatmeal, pancakes, biscuits and gravy, and most recently, this scrumptious overnight baked French toast.
I first made this French toast for my 2 year old's birthday breakfast and you would have thought he was digging into cake! And I agree, it's quite the treat!
French Toast Ingredients
1 loaf sourdough bread, I prefer the kind with a rustic crust
8 eggs
2 cups milk
1/2 cup heavy cream
1/2 cup brown sugar
2 tablespoons vanilla
1/2 teaspoon cinnamon
Crumble Topping Ingredients
1/2 cup flour
1/2 cup brown sugar
1 teaspoon cinnamon
1/4 teaspoon salt
1/2 cup butter, cold and cut into small pieces
Directions
Thoroughly butter or grease a 9×13 casserole dish. Cut or rip each slice of sourdough into bite size pieces and layer in the dish.
In a large mixing bowl whisk eggs, milk, cream, sugar, vanilla, and cinnamon. Pour over the sourdough pieces and gently toss with a large spoon. Cover and refrigerate overnight.
The topping can be prepared the night before or in the morning while the oven preheats. To prepare, combine all topping ingredients and cut in the cold butter with a fork.
In the morning, preheat the oven 350 degrees, uncover the French toast, crumble the topping mix over the top, and bake for 45 minutes.
Serve plain or fancy it up with a dollop of whipped cream, maple syrup or jam.