This year my daughter started preschool. Two afternoons each week she skips into her class and sings, learns and crafts her little heart out for 2 1/2 hours. At pick-up she is always thrilled to show off her day's work. I'm equally as thrilled to see her creativity 🙂
Sometimes her projects are small and detailed. Other times they are covered in glitter. They are almost tagged with purple since that is her favorite color. My "favorites" are the HUGE paint projects that aren't quite dry by pick up so I have to somehow gather a giddy preschooler, carry my toddler and keep us all from bumping the paint as we make our way to the car. Yes, go ahead and laugh … it is indeed comical.
Once we're home we lay out her projects so Daddy can ooo and ahhh when he arrives home from work and then … the fridge? Recycling?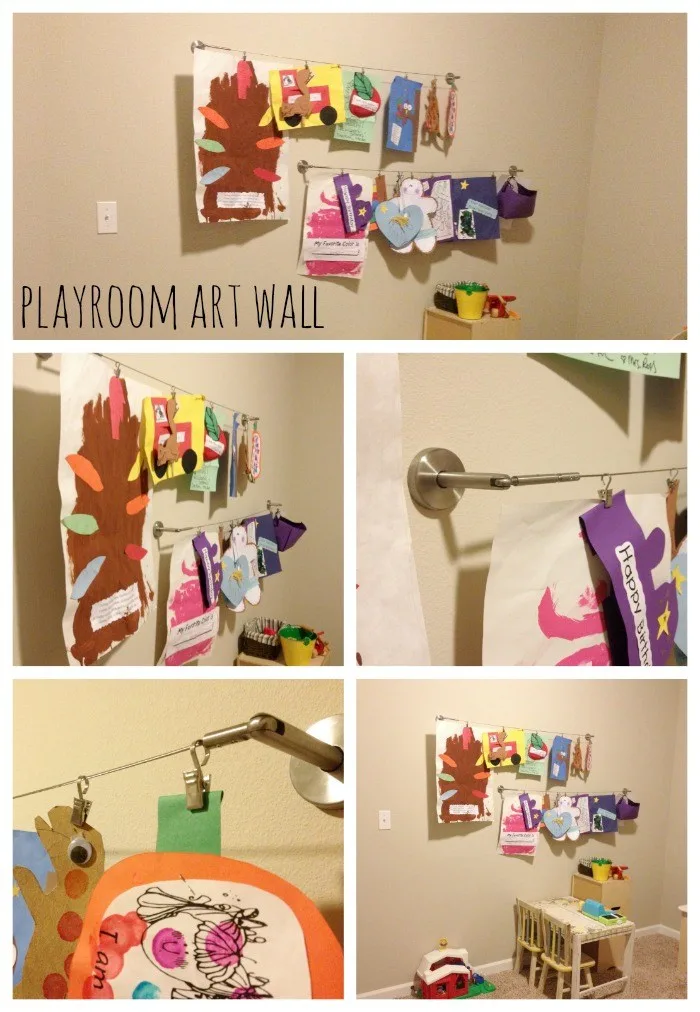 Nope, not around here! After Daddy gets a peek, it's off to our mini home art gallery in the playroom! I originally saw this display idea over at a friends house – that's right, I actually discovered a home improvement idea from a friend, not Pinterest. Although, I bet this idea is on Pinterest too. It's the perfect way to showcase my daughter's projects without cluttering the fridge. It makes the playroom a real cozy and kid-friendly space too! What better way to decorate a playroom than with child created art! Plus, I love that I can fit so many projects on one wall, because it's true, I'm a sentimental mama and it is hard to recycle them when I know my girl takes so much pride in her artwork.
There are two ways to install an art wall in your home. If you have a big blank wall like I do, you'll want the DIGNITET curtain wire from IKEA. It's a stand alone piece and can be simply installed with a drill and 1 1/4 drywall screws. If you have a mini wall or alcove you may want to consider the DEKA curtain wire. Don't forget an extra pack of RIKTIG curtain clips for all that precious artwork!
More Playroom Ideas
Playroom Art Wall and Chalkboard
How do you display your child's art work at home?