One of my favorite candy bars hands down has to be a Take 5 Bar. It has everything that is good about candy – peanut butter, chocolate, pretzels AND caramel. They are the absolute best.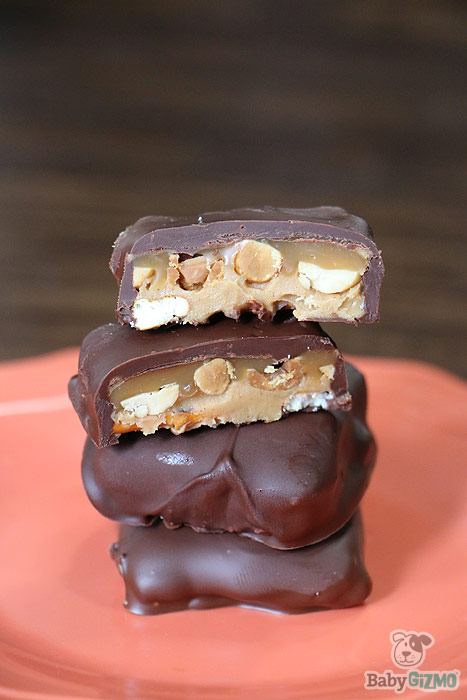 Did you know that you can make your own and it's super easy? Yep, today we are going to show you how easy it is to make a bunch of your own bite-sized Take 5 Candy Bars.
Ingredients: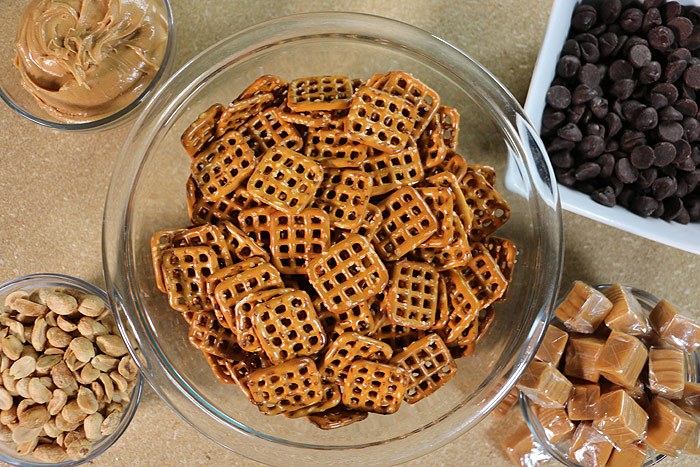 Directions:
Line a 9×13-inch baking pan with parchment paper.
2. Layer the pretzels in the bottom of the pan so that they all sit right next to each other.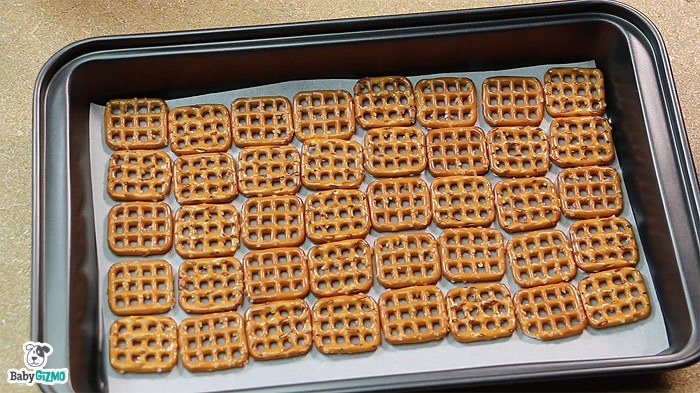 3. Melt the peanut butter in the microwave for 30 seconds until you can drizzle it easily. Drizzle peanut butter over pretzels. With a spatula, spread the peanut butter evenly to cover all of the pretzels.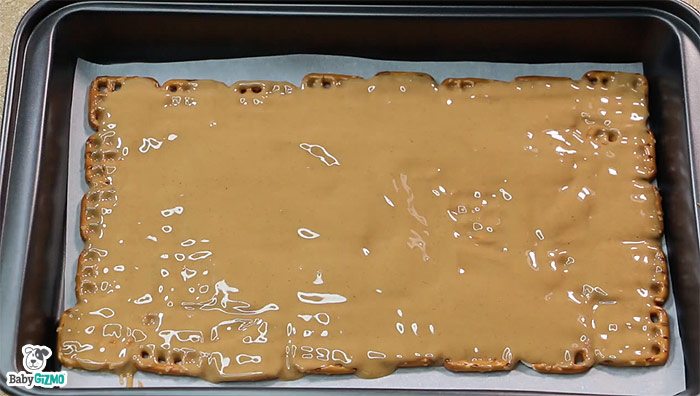 4. Sprinkle the peanuts evenly over the peanut butter layer. Place the pan in the refrigerator for 30 minutes to set.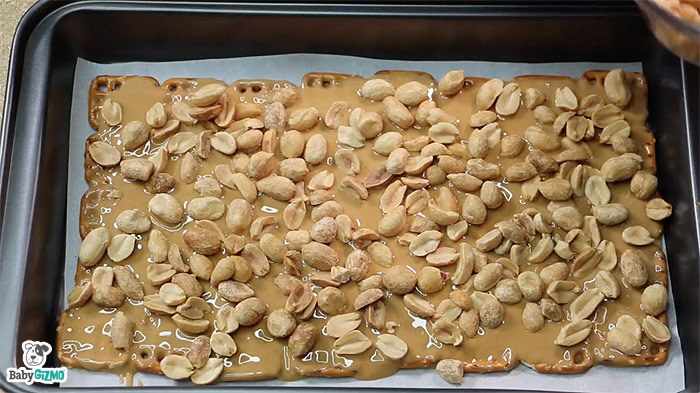 5. Unwrap the caramels and place them in a microwave-safe bowl with ¼ cup water and melt in the microwave for 1 minute. Remove and stir. Place back in the microwave for 30 seconds. Remove and continue to stir until caramel is smooth and of drizzling consistency.
6. Drizzle caramel evenly over all of the peanuts. Place pan back in the refrigerator for 1 hour.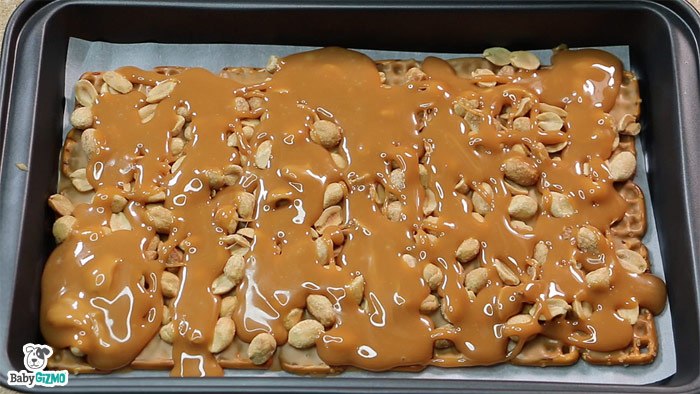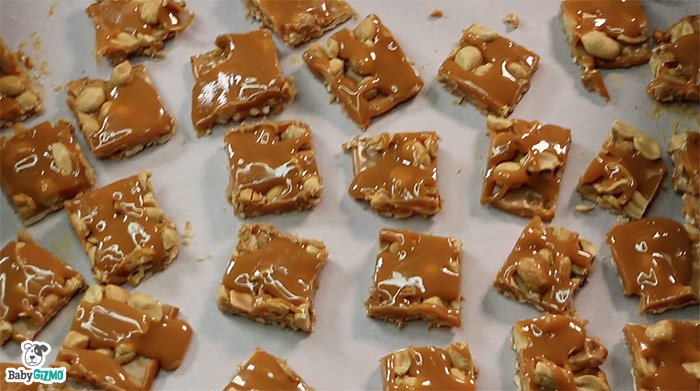 7. Remove from the refrigerator and immediately cut into 2×2-inch squares with a sharp knife. Spread squares out on a parchment-lined baking sheet and freeze for 15 minutes.
8. Melt the chocolate (1 bag at a time) in a shallow microwave-safe bowl for 1 minute. Remove and stir. Return to microwave for 30 seconds. Remove and continue to stir until all of the chocolate chips are melted.
9. Line another baking sheet with parchment paper. Remove the candy bars from the freezer. Using a fork, dip the candy bars one at a time into the melted chocolate until each one is completely coated in chocolate. Make sure the pretzel layer remains on bottom. Remove and let excess chocolate drip off of the candy bar and the fork before placing on the parchment-lined baking sheet.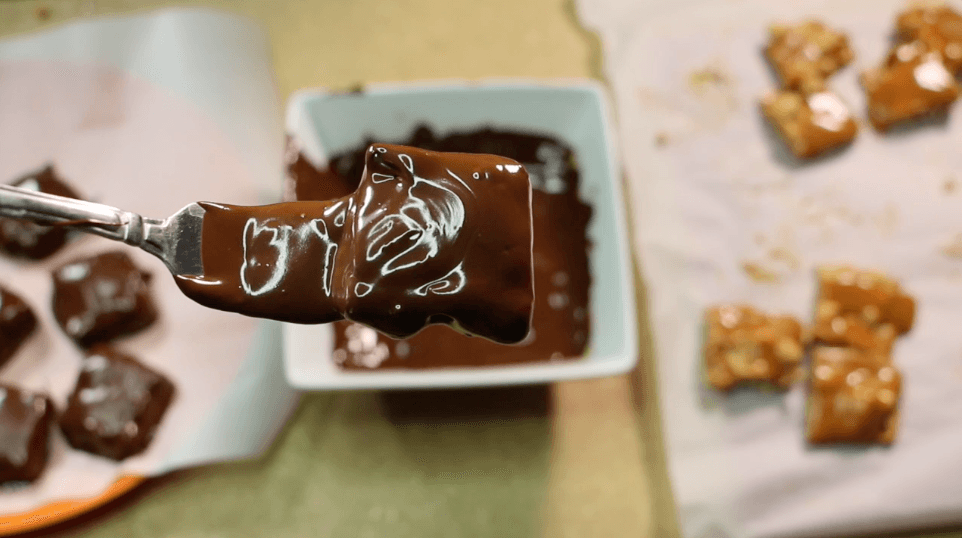 10. Repeat with remaining take 5 candy bars and remaining chocolate chips until all candy bars are coated. Place candy bars back in the refrigerator to set for at least 15 minutes before enjoying.
Interested in other holiday tutorials? Check out this one, or this one, or this one.