If you live near Las Vegas or are planning a trip there this summer, I have a fun, family-friendly activity suggestion that's totally worth the ticket cost: The Tournament of Kings dinner and show at Excalibur!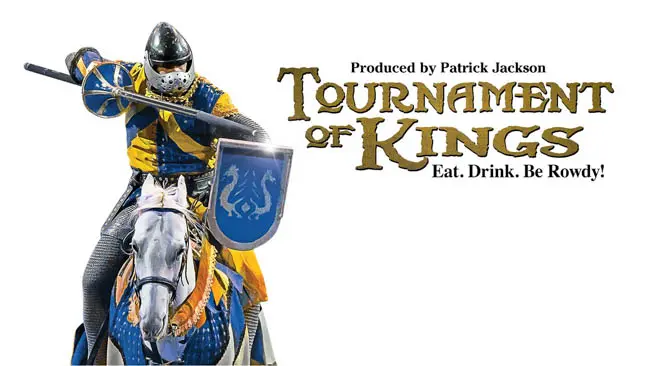 Usually when you think Vegas and the Strip, "family friendly" isn't the first thing coming to your mind. But anyone who has done a quick Google search will tell you that you can find the gems within the "adult." And this show is one of them. It consists of two parts: the show and the dinner. Let me break them down so you know what to expect.
The Dinner:
They take the guesswork out of it for you and simply provide one choice. A vegetarian option is available if requested upon ticket booking, otherwise you get the standard whole roasted chicken, potatoes and broccoli with a side of tomato soup and bread. Kids meal options are also available, but just like the vegetarian, you need to request it upon booking ahead of time.
And while I wouldn't go just for the food, I was pleasantly surprised how good it actually tasted. There's just something so fun about being in this show type atmosphere, eating a whole chicken with just your fingers and drinking soda (or beer, for the adults) from a mug while being entertained by knights fighting right in front of you. Dessert was an apple fritter that was, again, surprisingly warm, flaky and delicious.
I'd suggest dressing down (everyone else did) to avoid grease stains on your nicer clothes and bring your own bag of wet wipes. Your fingers will get very messy and the cheap napkins they provide will rip as you wipe your sticky, greasy fingers across them.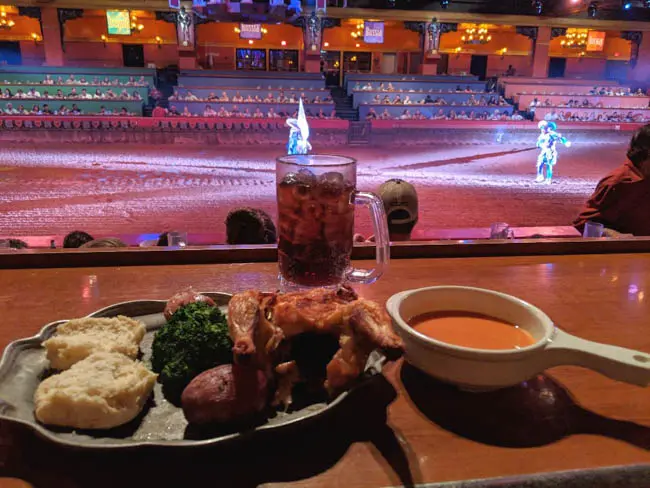 The Show:
The Tournament of Kings show is so fun for everyone of every age; you just need to allow yourself to enjoy it and not feel "too cool" to participate! While your kids will find it easier to suspend belief and ignore the lip-synced lines and poor plot points, parents will need to try a little harder to be forgiving. But even among the silliness or the plot holes, there are gems worth your time.
For example, the sheer fact that these men have had to train on real live horses (which are gorgeous and magnificent) to pretend fight, fall while moving, throw spears at a target and more is to be appreciated. I'm also sure you'll enjoy the dance numbers preformed by the talented women of the cast.
And since it's Vegas, you can't do anything without a nod to nudity**, as seen in their casting of what I like to call the "Sexy Squires:" shirtless and very fit men who act as the knight's squires who are really only there to clear the field of shards of wooden lance after the jousting bits.
**Don't worry: I said "nudity" just because it's Vegas. It's really only shirtless men walking down the field. These guys just happen to be prettier to look at than your chubby neighbor who mows his lawn topless.
Here's how the show basically goes:
You arrive and begin to eat while Merlin and a jester pump up the crowd and give instructions on the proper way to cheer and bang the table. That'll come in handy for when you lose your voice yelling for your designated knight later on. Then the show begins and you're supposed to root for the knight whose section you happen to be sitting in.
Upon booking your tickets, you will choose which country's section you'd like to sit in. When I went, I sat in the "Dragon" section, not really knowing what that meant. Knights will participate in the tournament (jousting, fighting, throwing spears, etc.) but a bad guy with some contrived problem shows up and declares his Dragon Knight will fight them all. (Again, the plot wasn't great and character development was non-existent but you can't expect much from a 90-minute show that's decently priced, right?)
So my section rooted for the bad guy. It was actually pretty fun to get into this role, when it's so opposite of the nice, supportive person we usually are! Though I did secretly pick my own favorite knight from my favorite country to root for internally. Will the Dragon Knight win? Or does good conquer evil once more? You'll have to attend to find out!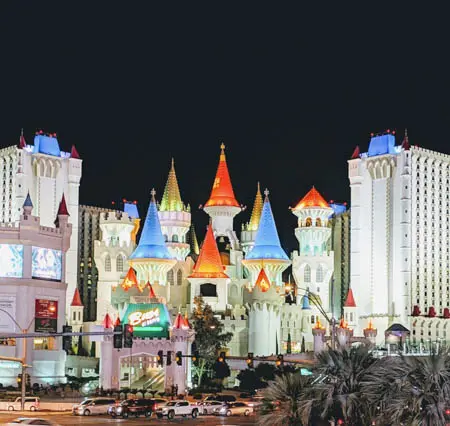 My only warning for Tournament of Kings is the thunderous cannons that will sound throughout the show. When the first time one boomed, I wasn't looking and wasn't expecting it. It was so loud it made me scream out loud and drop my roll into my soup, splashing everything.
Of course I then laughed at myself but even when I tried to anticipate it, the cannons were so uncomfortably loud! Also, the incredibly loud boom is accompanied by a flamethrower and at the end, they shoot off actual fireworks indoors. If you plan to take your younger kids to the show, or if you have children who cannot handle this sort of thing, be fair warned this might upset them to the point of wanting to leave early. I'd say the sweet spot is ages 7 and older because of this. Maybe noise-cancelling headphones could help, too!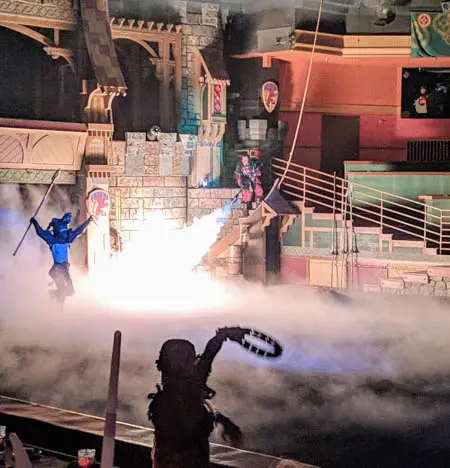 My final takeaway: entertainment is about expectations. If you go into this show expecting to see Broadway level talent and storyline, you'll be disappointed. But if you understand this is one of the last truly family friendly productions left on the Strip for a decent price, and are willing to yell and participate and have a mindless, fun experience, you won't regret a thing.
Have you seen The Tournament of Kings show in Las Vegas? What else would you say about it for those wanting to try it out?