Traveling with teens can be great fun but it's a good idea to plan out your trip to maximize your time at your destination. We recently traveled with our 2 teens and 1 tween to the Outer Banks to explore some teen-friendly activities that would be fun for the whole family.
Watch our video of some of our favorite things to do with Teens in The Outer Banks. (Then you can read more about the specific activities and watch videos below).
WHERE IS THE OUTER BANKS?
The Outer Banks is a beautiful, coastal community off the coast of North Carolina that offers travelers a relief from the crowded beach cities and "Vegas-Style" beach towns that people flock to for Spring and Summer break. It's a low-key perfect place to take the family and spend quality time with the teens.
In fact, you won't find any cities on the Outer Banks, just 100+ miles of wide-open shoreline, charming seaside villages, and a mix of towns brimming with personality and fascinating connections to our nation's history. Although we're just a drive away, these barrier islands feel remote. You could say we were socially distancing before there was such a thing.

outerbanks.org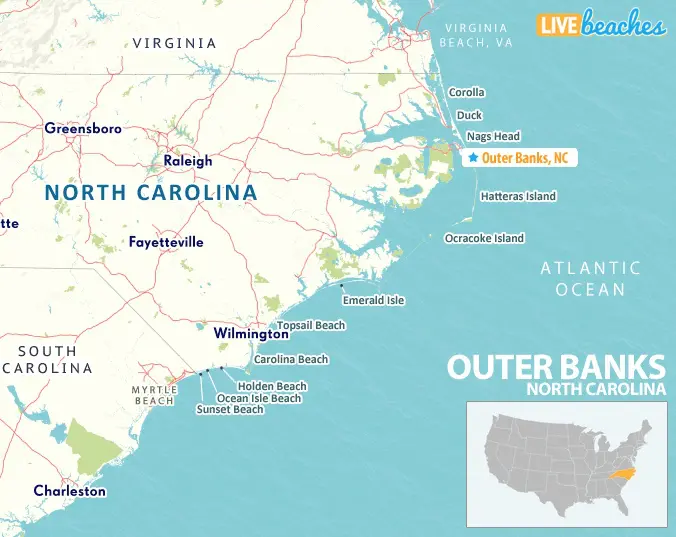 While we had a short 3-day visit this time, we packed in as many activities as we could to share with you. There are, of course, many more activities that we hope to share in future visits.
Hang Gliding Lessons with Kitty Hawk Kites
Kitty Hawk Kites operates the largest hang gliding school in the world located in the Outer Banks of North Carolina.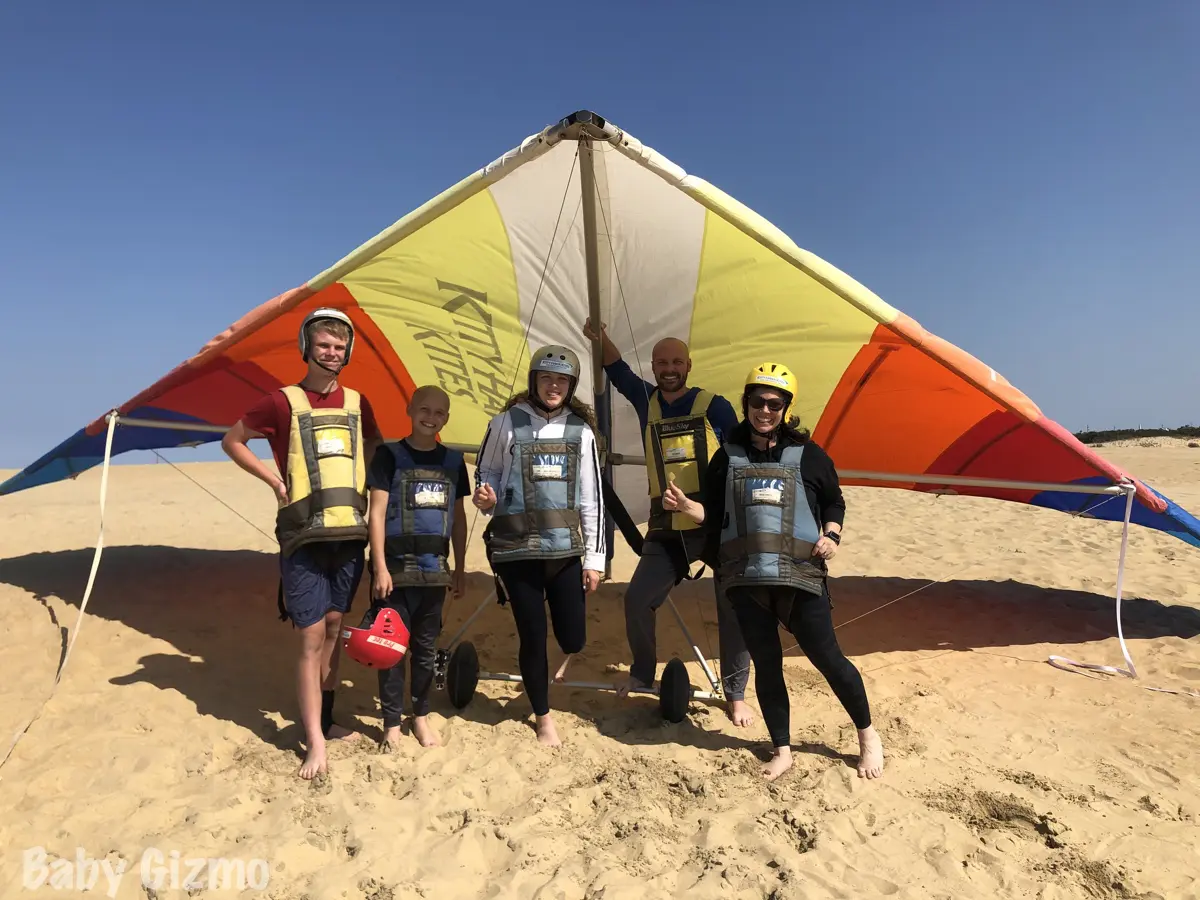 Before your teens groan that they "don't want to take lessons on vacations or go to school", hear us out. This is not a classroom-type of lesson but a go out to the sand dunes of the Outer Banks and actually hang glide lessons! We had so much hang gliding with Kitty Hawk Kites that my teens can't wait to go back to try the next level up.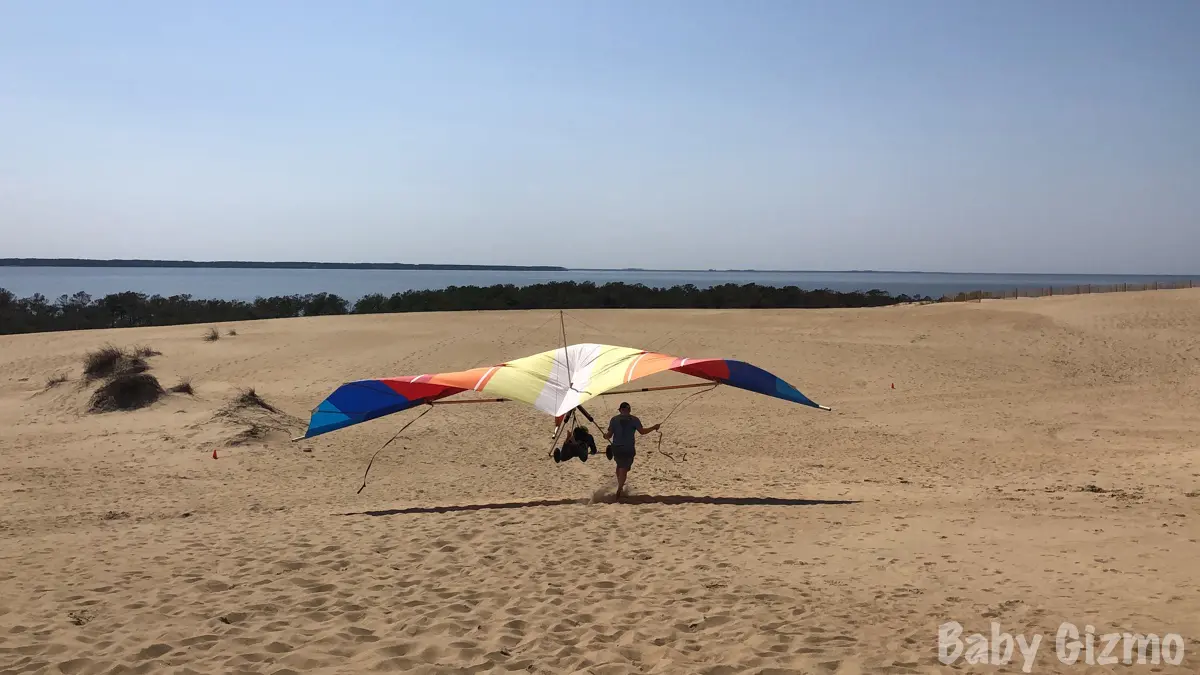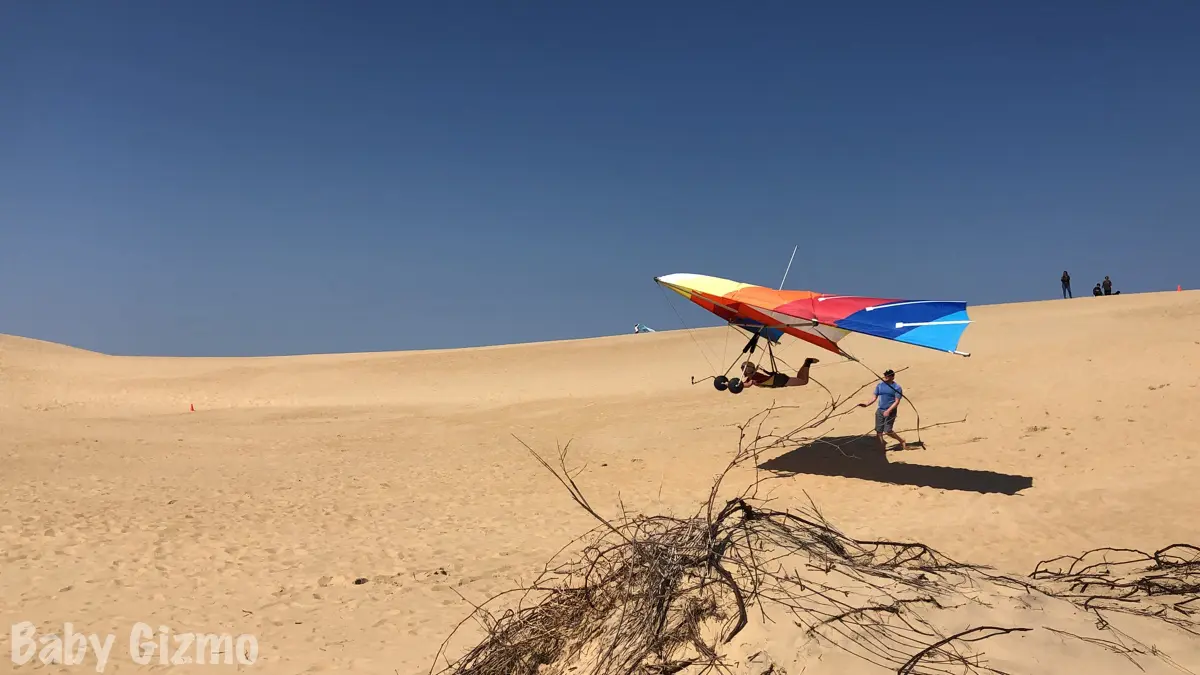 We took the Beginner Dune Hang Gliding Lesson at Jockey's Ridge State Park in Nags Head that has you hang gliding over the sand dunes. Each lesson is about 3 hours long and includes Ground School (which is about 10 minutes) and 5 solo training flights. Yes, you really learn how to fly a Hang Glider on your first lesson. Find out more about Kitty Hawk Kites Hang Gliding.
Watch our video about our Hang Gliding experience:
It's hard to get a 14 year old boy to genuinely smile for much but look at the pure joy on his face that we caught on film during hang gliding.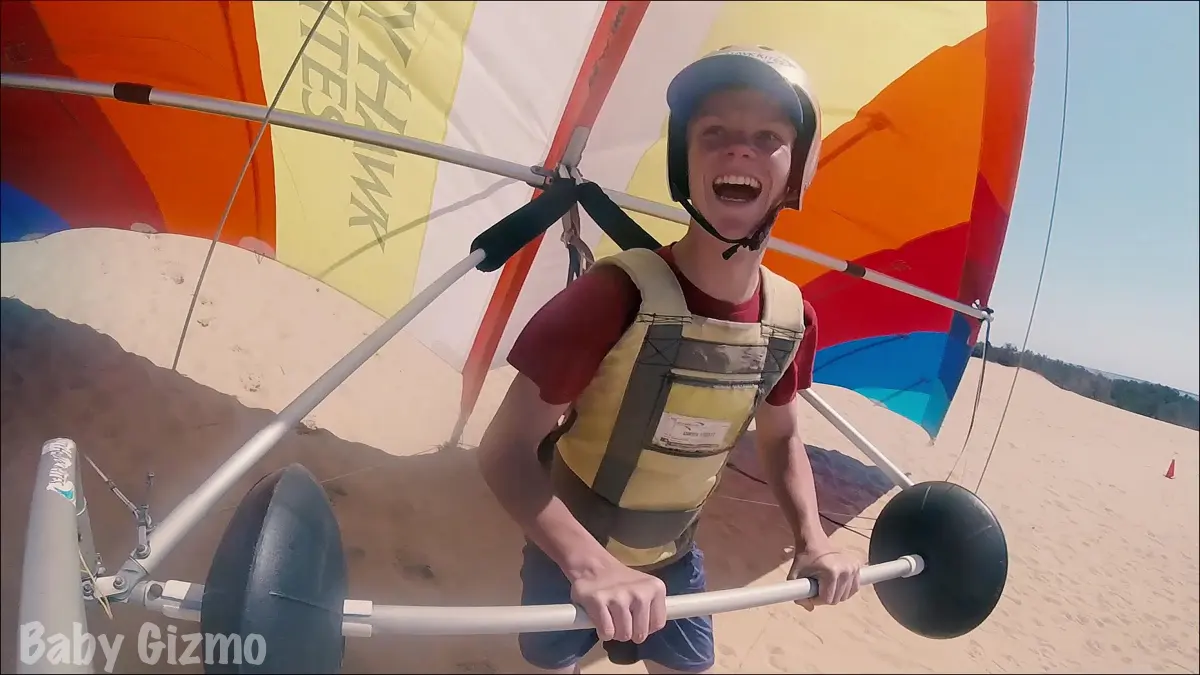 Kayaking Through a Maritime Forest
Another great family-friendly activity with teens is a Kitty Hawk Maritime Forest Kayak Tour. This 1 1/2 – 2 hour kayak tour has your family paddling down a beautiful maritime forest.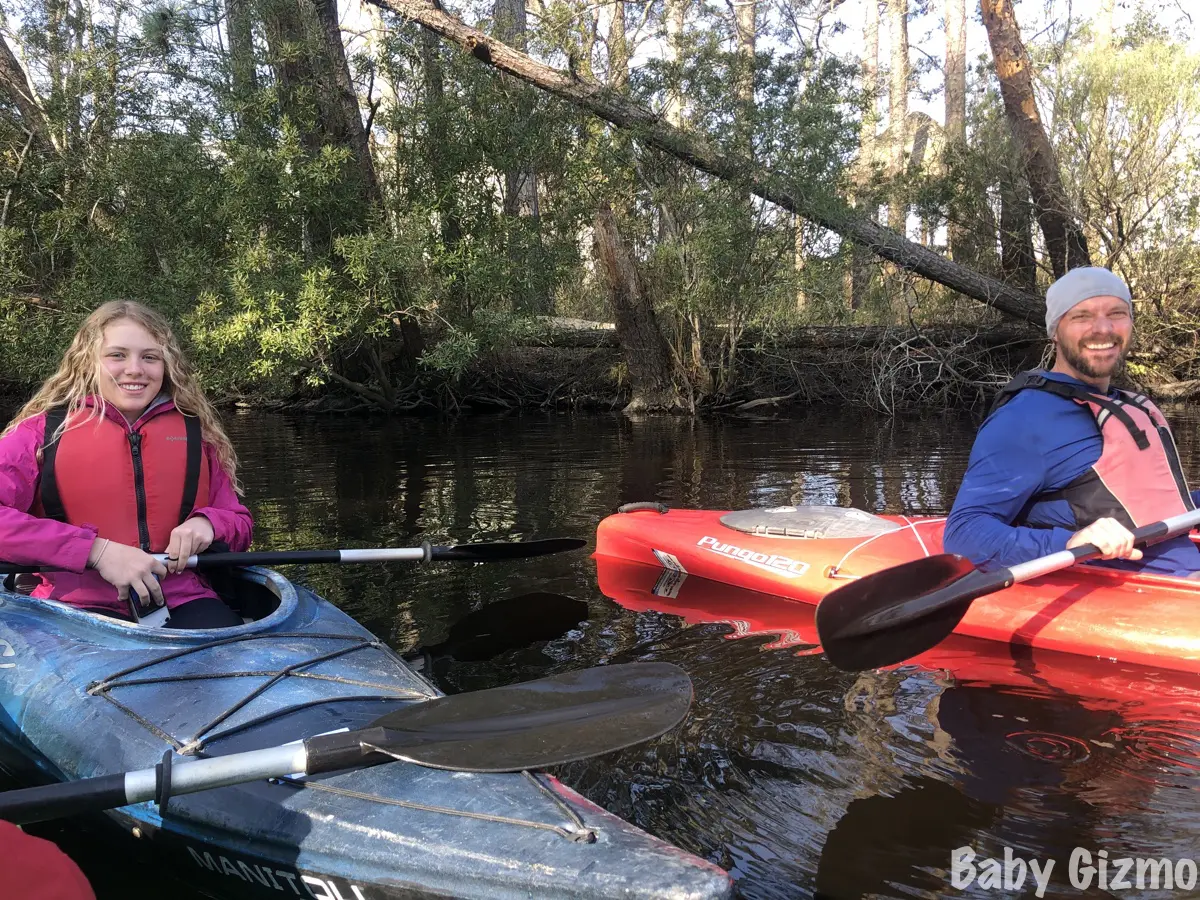 We love that that water is calm enough that people of all ages including younger kids and grandparents can easily participate in this activity.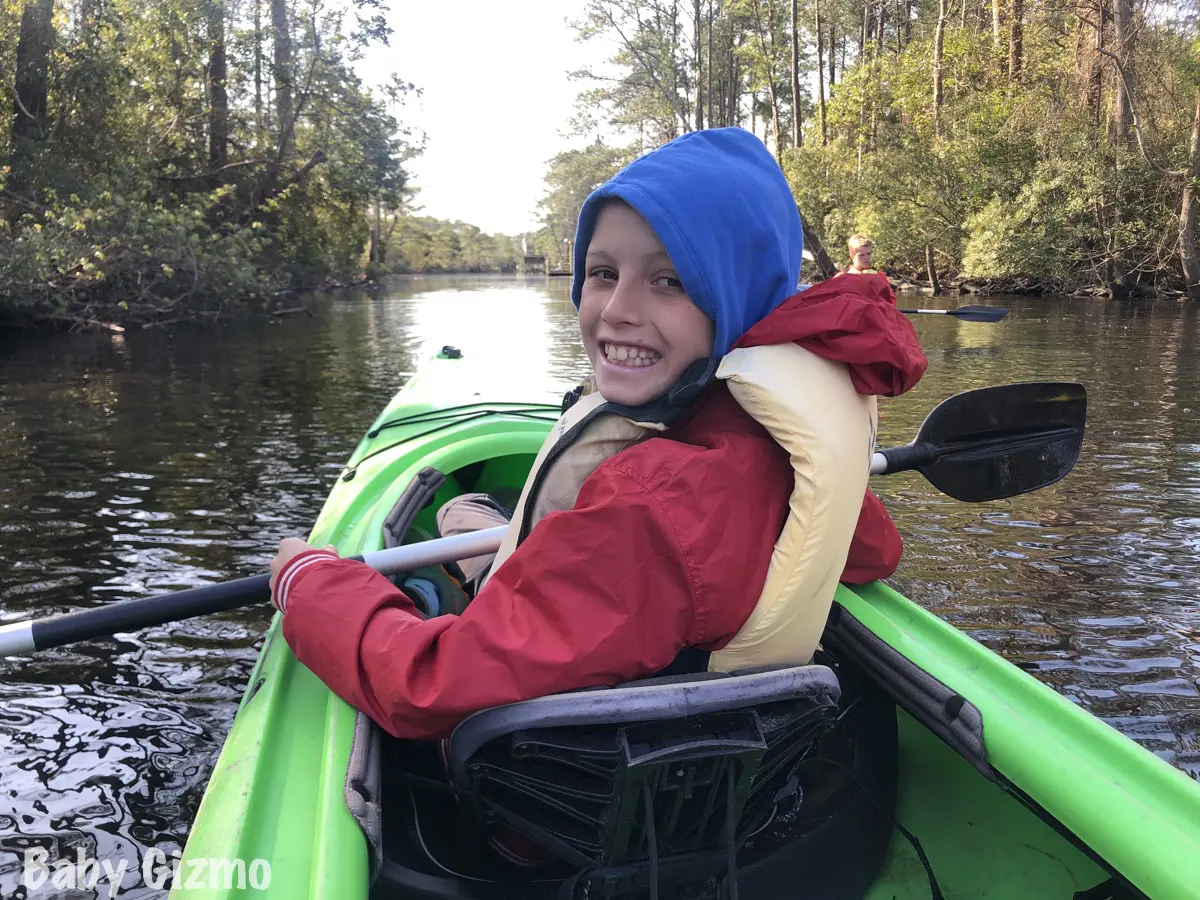 Find out more about about Kitty Hawk Kayak Tours.
Experience the seclusion of the Kitty Hawk Woods Coastal Preserve as you kayak along this amber creek under a canopy of Live Oaks and Red Maples. Just a stone's throw from Kitty Hawk Road, this trip offers a special look into the forest reserves that still exist on the Outer Banks.

While kayaking, let our guide teach you about maritime forests and the diverse terrestrial biomes that make up our barrier island. This kayak tour is great for all skill levels from beginners to seasoned veterans. The shelter provided by the tall trees of the forest keeps the water here calm, even on windy days.

kittyhawk.com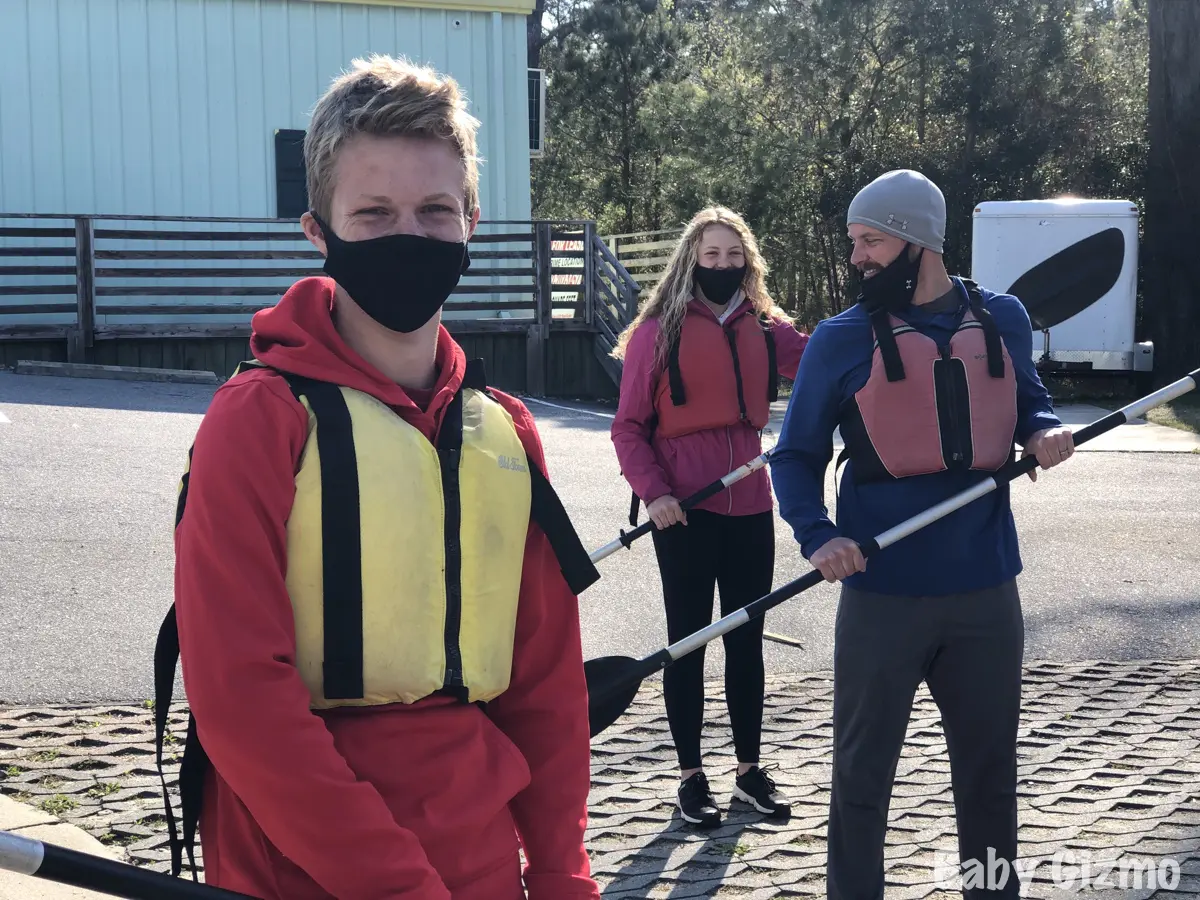 Watch our video about our kayaking experience:
Eating the Best Donuts in the Country
You can argue with us if you want, but we found the BEST donuts in the country. Yep, we have officially dubbed Duck Donuts as our favorite donuts ever. You just can't beat these warm, delicious, made-to-order donuts!
If you want your teens to live their best life, you must stop at one of the Outer Banks Duck Donuts locations. You can thank us later!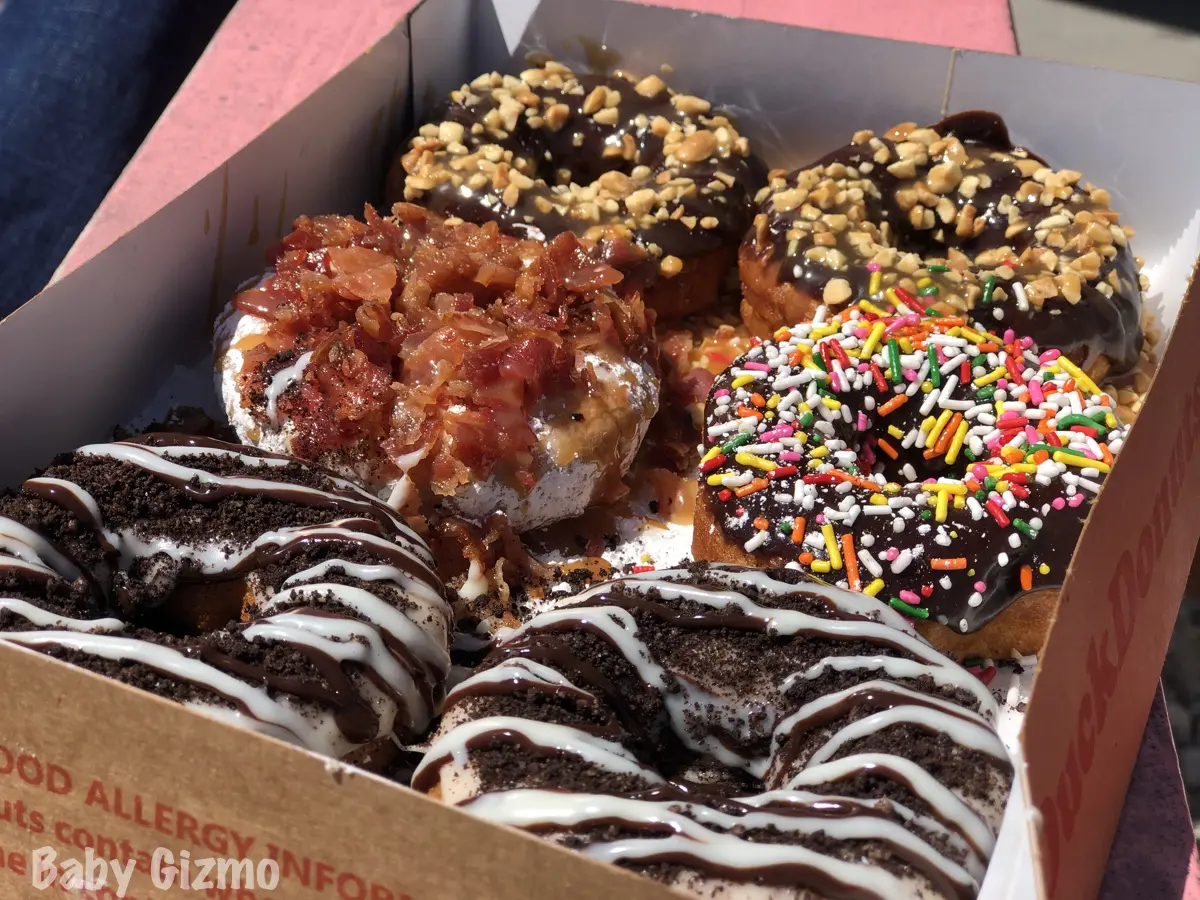 Staying at a Place Fit for Teens
Teens like things to be easy. If they want to go to the beach, they want it to be easy. They don't want to have to pack up, get in the car and travel to the beach. They'd rather step out their door, take a few steps and just be there. Let's be honest, we all would, wouldn't we?
The place we stayed in the Outer Banks was just that! The Whale Bone Ocean Cottages by Kees Vacation had plenty of room for the entire family and was just steps from the beach.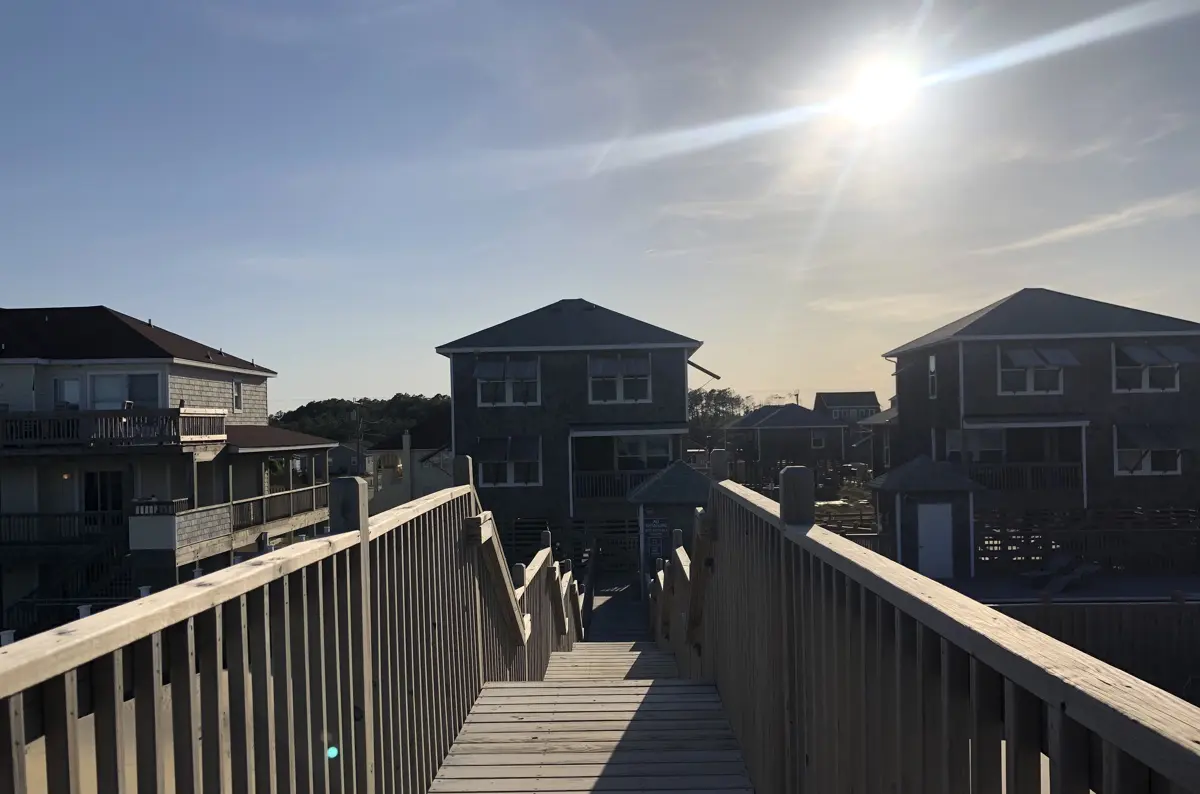 It's definitely a place that we'd recommend when traveling with teens or kids or anyone really. You can book these cottages here: Whalebone Cottages in The Outer Banks
You can see our full cottage tour here:
Another place to visit in The Outer Banks is the Cape Hatteras Light Station. Also known as America's Lighthouse, the Cape Hatters Lighthouse is the tallest brick beacon in the world standing 210 feet. You can climb all 257 stairs to the top which is equivalent to climbing a 12 story building.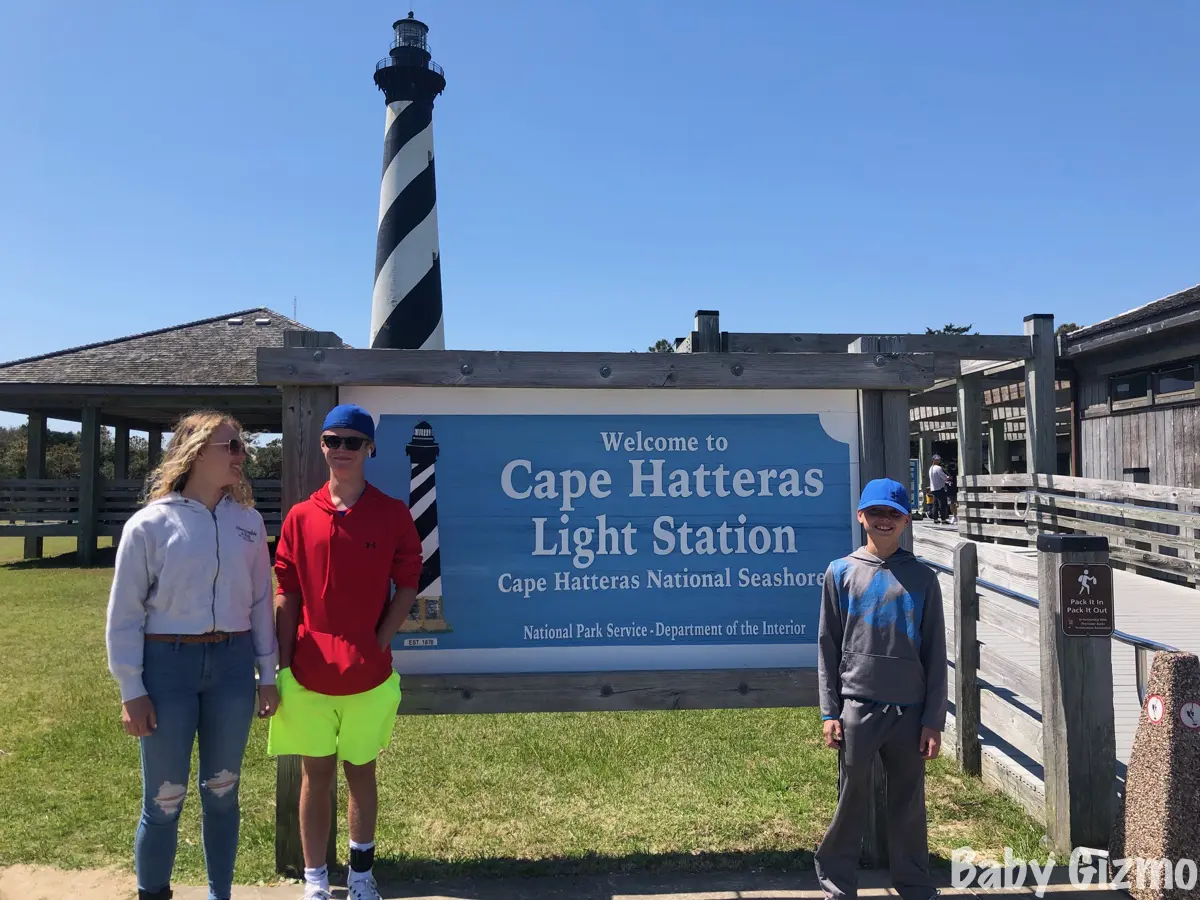 The lighthouse is a conical brick structure rising from an octagon-shaped brick and granite base and topped with an iron and glass lantern. It is the tallest brick lighthouse in the United States and measures 198.49 feet from the bottom of the foundation to the top of the pinnacle of the tower. This height was needed to extend the range of the light-beam from the tower's low-lying beach site. The tower's sturdy construction includes exterior and interior brick walls with interstitial walls resembling the spokes of a wheel. There are 269 steps from the ground to the lens room of the lighthouse.

nps.gov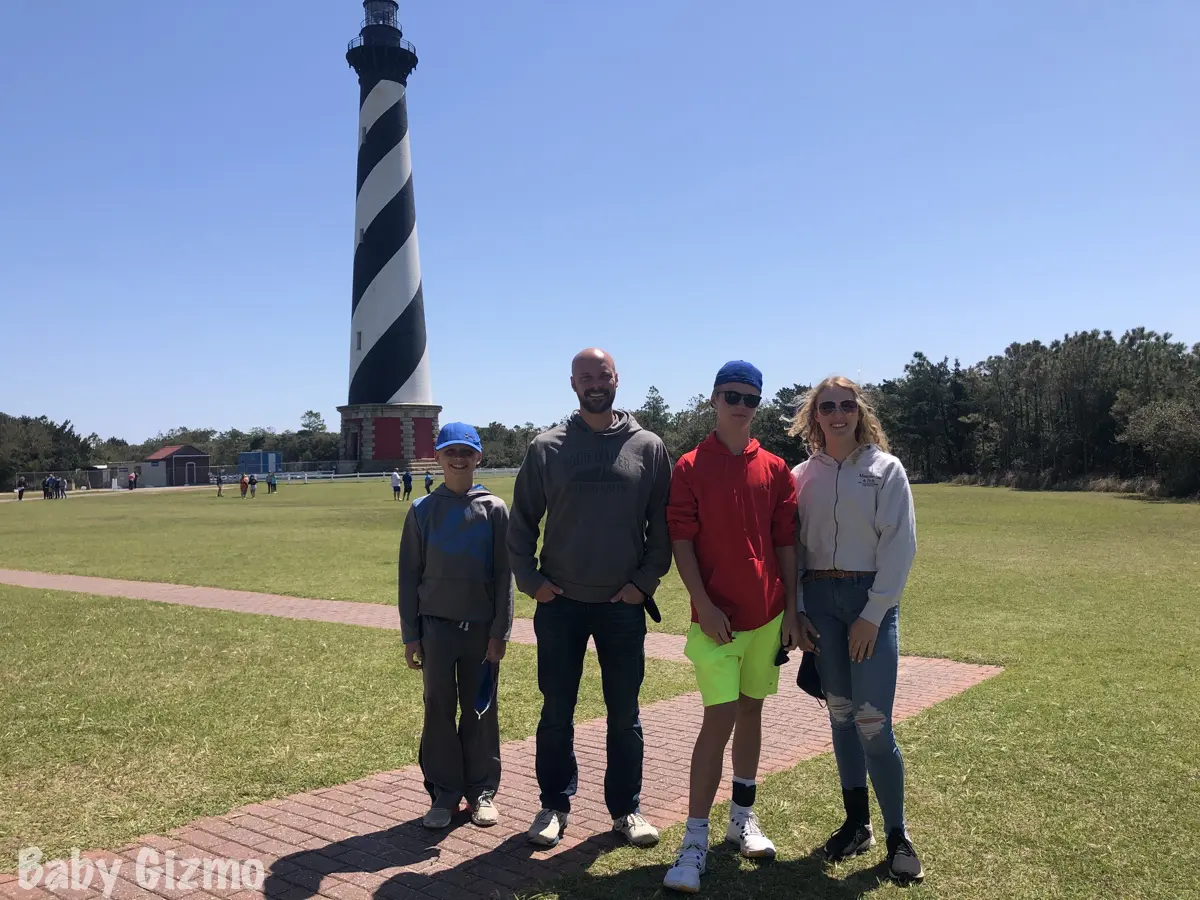 On the grounds of the lighthouse are two museum houses that used to house the staff of the Cape Hatteras Lighthouse consisting of a Principal Keeper and two Assistant Keepers. The two Assistant Keepers and their families lived in the Double Keepers' Quarters, built in 1854, and the Principal Keeper and his family lived in the small house that was built in 1870.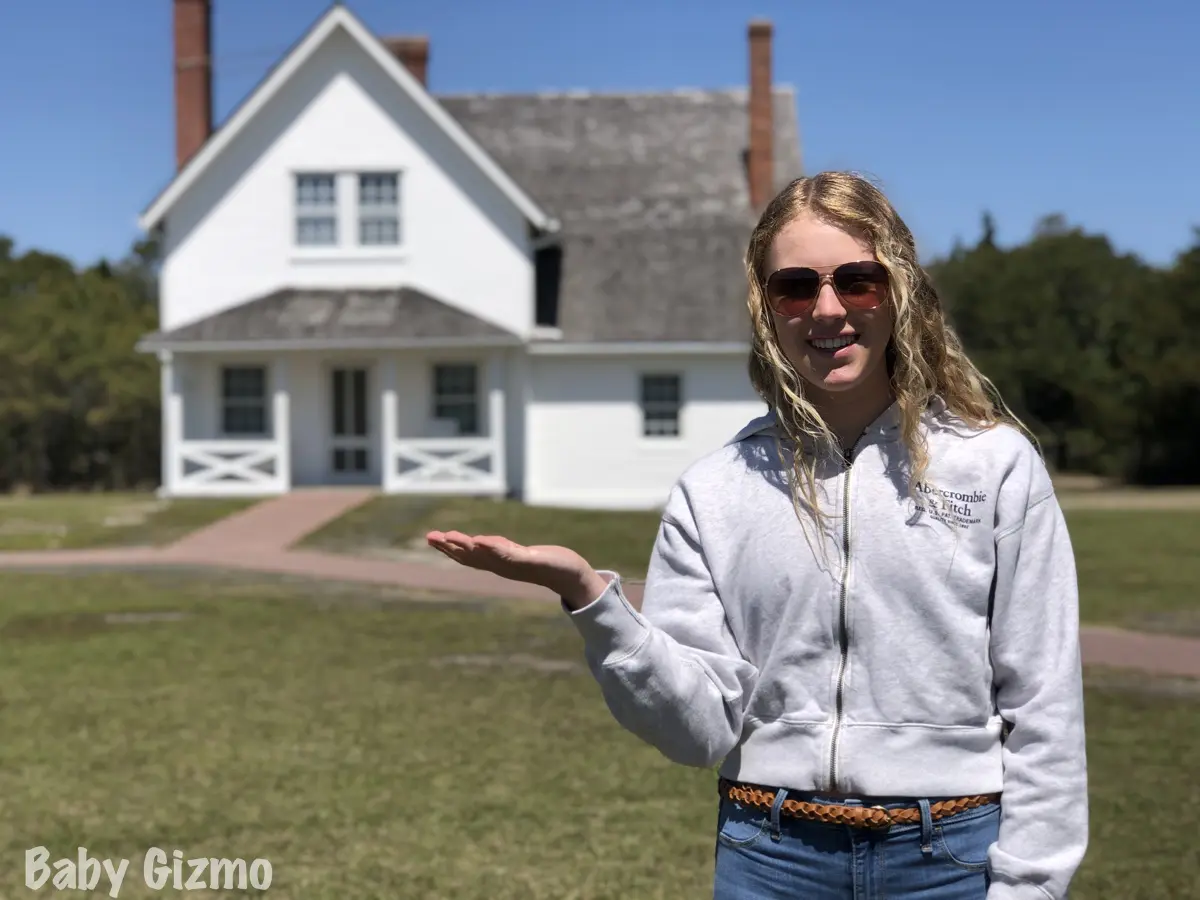 A great stop to make on the way back from Hatteras Light Station is the Pea Island National Wildlife Refuge.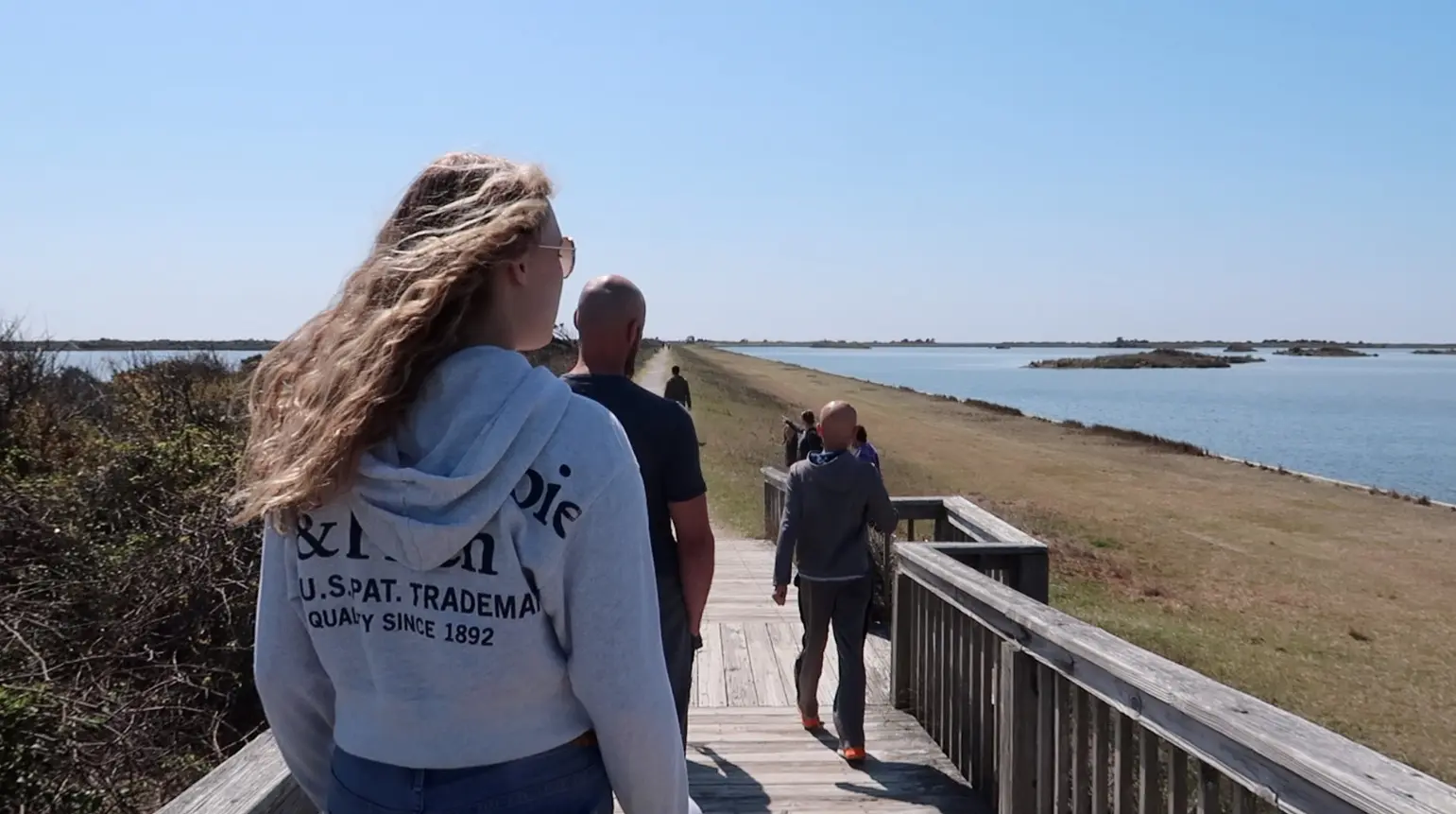 Established in 1938 to provide nesting, resting, and wintering habitat for migratory birds, including the greater snow geese and other migratory waterfowl, shorebirds, wading birds, raptors, and neotropical migrants; to provide habitat and protection for endangered and threatened species, such as Loggerhead sea turtles; and to provide opportunities for public enjoyment of wildlife and wildlands resources.
While there are many other things to do in The Outer Banks with teens, these are just some of our favorites and what we were able to fit in during our brief visit. We hope to bring you more Outer Banks coverage during future visits.
FAQs
Where is the Outer Banks?
The Outer Banks is a beautiful, coastal community off the coast of North Carolina that offers travelers a relief from the crowded beach cities and "Vegas-Style" beach towns that people flock to for Spring and Summer break.
Are there alligators in The Outer Banks?
Absolutely. There are alligators in the Outer Banks.
Was the Netflix show "Outer Banks" filmed in the Outer Banks?
No. Crazy enough, almost all of the "Outer Banks" TV show was not filmed in the actual Outer Banks but in and around Charleston, SC.
*Disclosure: Thanks to Kees Vacations for comping our accommodations and Kitty Hawk Kites for comping our hang gliding and kayaking. As always, all thoughts, opinions and statements are our own.