It's time for Tomato Tortellini Soup. I'd describe myself as an eager rookie in the kitchen. I've been cooking for years, but often times I am repeating my favorite recipes over and over again.
I'm embarrassed to admit there are some meals that I am afraid of. I have a confession: I have never roasted a chicken before. The thought of it is so intimidating to me (plus, Costco sells delicious rotisserie chickens for $5). For Thanksgiving one year, I made three large turkey breasts instead of roasting a bird (like a normal person).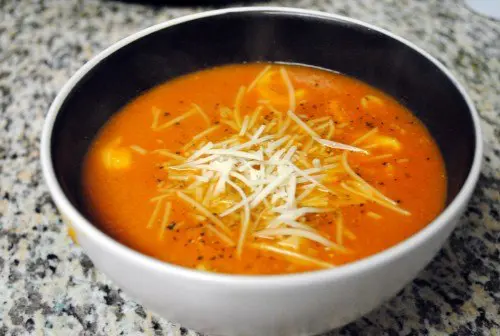 And then there's the meals that I never think to make myself. We don't eat many store-bought or prepared foods in our house, and I'm happy to serve homemade macaroni and cheese or mashed potatoes at dinner. But soup? No.
We like Progresso in this house. When it's cold and dreary outside, there is no greater joy than popping open a can and having a meal ready in 3 minutes.
But as the budding adult I am, I've noticed that some people make their own soup. From scratch. For fun, even!
So, I've decided to give it a try this winter. I found this recipe from Two Peas and Their Pod and adapted it a little. I've realized one thing- homemade soup is gooooood. Often times, it requires very little effort- also a plus!
Homemade tomato soup is so easy to make and tastes world's better than anything I've ever poured out of a can. This specific recipe is turned into a main dish with the addition of tortellini. It is hearty and warm and filling and rich and delicious. Make it tonight.
Tomato Soup Ingredients:
1 tablespoon butter
1 small onion, sliced into strips
3 cloves garlic, minced
Crushed red pepper flakes, to taste
2 (28 oz) cans diced tomatoes
1 (32 oz) container chicken broth
1/4 cup chopped fresh basil
Salt and freshly ground black pepper, to taste
1/2 cup heavy cream
1 package tortellini of choice (we use cheese)
Grated Parmesan cheese, for garnish
Directions
1. In a large sauce pan or stock pot, melt the butter over medium heat. Add the onion sauté until tender and caramelized, about 5 minutes. Add in garlic and stir for one additional minute.
2. Add the diced tomatoes and chicken broth. Stir in fresh basil and season with red pepper flakes, salt, and black pepper, to taste. Simmer on low for 15 minutes, uncovered.
3. Use an immersion hand blender to blend the soup (or carefully transfer soup to a blender to blend and return to the pot). Stir in the heavy cream until well combined. Add the cheese tortellini and cook on medium-low until tortellini is cooked, about 7-8 minutes. Top with grated parmesan cheese and fresh cracked black pepper.
**I've tried this Creamy Tomato Soup with Tortellini Recipe with plain greek yogurt instead of heavy cream and I'm here to say- DON'T. Yogurt has it's place, but it's not in this soup. Live a little!
OTHER SOUP RECIPES