From early on kids have an affinity for joining their parents in the kitchen. It is exciting learning to cook! I mean, truly, there is nothing more fun than stirring and nothing more fun than eating something YOU made! Getting kids in the kitchen early and often is a lot of work, but trust me, it so worth it! My nine year old is managing simple meals on her own now and I am so in love with the break it is giving me. Why not teach your child to cook with these recipes?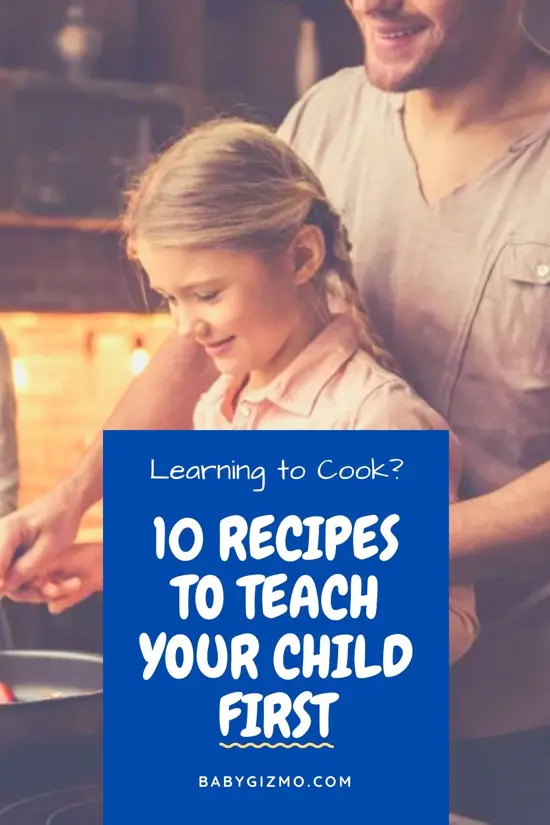 All four of my kids enjoy the process of learning to cook. At two, four, seven, and nine years of age they're at different stages of learning, but all very capable in the kitchen!
The recipes below are great starter ones. When you're thinking through what your kids can help with or take over in the kitchen, start with basic skills like mixing, measuring, and assembling. Then, when they're ready, move on to things that require the stove or oven.
So, lets teach your child to cook!
Peanut Butter and Banana Sandwich – Teach Your Child to Cook
Peanut butter and banana sandwiches are a great recipe to start with. Have your child gather the ingredients and practice spreading peanut butter. Then cut the banana and layer each piece. Remind them that thin, even slices are best!
Fruit + Yogurt Parfait
Mason jars make perfect parfaits with a layer of yogurt, fruit, and granola. Teach them to measure, layer, and cut fruit into bite-size pieces.
Princess Pink Jello Salad
Princess Pink Jello Salad was the first recipe I ever learned as a child. And it's still a favorite of mine! It can be easily modified to a Sunshine Orange Jello Salad with orange Jello and mandarin oranges or a Green Hulk salad with pistachio or lime Jello and sliced green grapes.
Instant Pot Oatmeal
Our whole family loves hot oats on chilly mornings. I've taken to using the porridge setting on my Instant Pot for easy oatmeal and it's amazing! One cup steel cut oats to two cups almond milk and then we go crazy with our topping options.
Pesto Cream Cheese Bagel
If you or your child is hesitant to begin cooking on the oven, opt for using the toaster! Help with slicing the bagel (or buy this amazing bagel slicer, we love ours!) and pop it in to warm. Mix 1 tablespoon pesto and 4 tablespoons softened cream cheese and carefully spread on the toasted bagel.
Cheesy Scrambled Eggs – Teach Your Child to Cook
Scrambled eggs are the perfect first stove recipe. Teach your child to safely turn on the stove to medium heat. Melt a pat of butter and crack your eggs into a separate bowl … then you don't have to worry about any egg shells in a hot pan. Whisk eggs with a splash of milk and pour into the hot pan. Stir with a spatula until fully cooked. Sprinkle with cheese before serving. Yum!
Baked French Toast Casserole
Regular French toast is a great first griddle recipe, but if you want to take it up a notch, have your child follow this recipe for Baked French Toast Casserole. It's by Paula Dean so you know it's good!
Grilled Apple Turkey Grilled Cheese
Up the basic grilled cheese game with a fancier version. On the griddle, melt butter and build your sandwich – bread (sourdough is amazing with this combo), cheese, slice of deli turkey, finely sliced apple, and another slice of cheese with bread on top. I've taught my daughter to add a lid or foil tent over the sandwich to help trap the heat and melt the cheese. Watch for the bottom slice of cheese to melt well, then, flip!
Super Muffins
These healthy super muffins are a delicious first muffin recipe. One that incorporates measuring, mixing, and using the oven.
DIY Pizza
My kids all love when I buy pizza dough and they get to build their own pizzas! Spread the sauce, sprinkle the cheese, add toppings! I may even have bribed them to try a new topping in exchange for being the one who gets to use the pizza cutter.
If your kids are learning to cook too, I'd love to hear what they've been whipping up lately! We're always on the lookout for new, family-friendly recipes!
What did you think of these recipes to teach your child to cook?