Are you planning to travel to South Carolina? Have you heard about the Wild Dunes Resort in Charleston? Summer break is right around the corner and you are probably looking for great travel destinations to take the family. Somewhere with great views, fantastic amenities, helpful kid programs and delicious food, amIright?!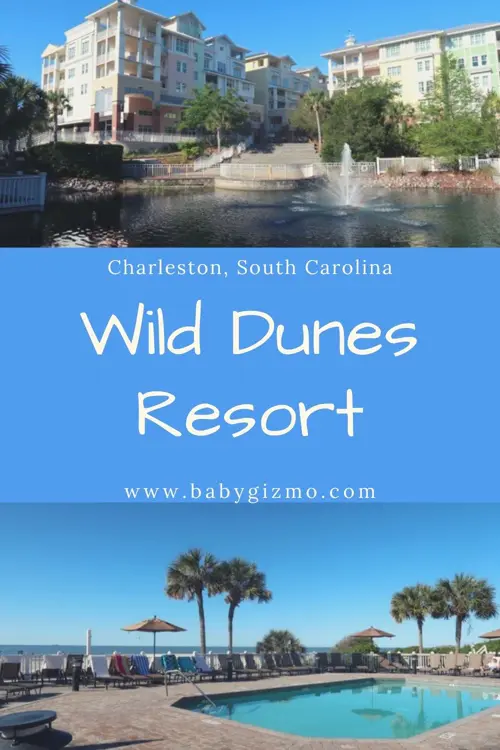 Last week we stayed at and explored the Wild Dunes Resort in Charleston, South Carolina to see if you should add it to your travel bucket list. After three days at the resort, lots of beach time, swimming, painting (in the Dune Bug Club), tennis, delicious food and tons of family fun, we have to say 100% YES to adding it to your list.
Take a look at our vacation video and then read all our thoughts on this South Carolina destination below.
While we've been to Charleston many times, we've never stayed at the Wild Dunes Resort, so the kids' spring break this year was the perfect time to check it out.
With an expansive 1600 acres of private, oceanfront property, the Wild Dunes Resort is located in the northern tip of Isle of Palms, less than 30 minutes from historic Charleston. The resort features year-round golf, tennis, spa services, restaurant options, recreation and excursion offerings.
While we were only there for 3 days and couldn't do everything, we can share with you what we did and why we think you should visit.
ROOM
We stayed in a beautifully set up 2-bedroom suite in The Village portion of Wild Dunes Resort. The Village is a AAA four diamond-rated property that features 150 rooms and suites and is located in the heart of the resort with easy access to the pools, fitness center, restaurants and beach.
The suite was perfect for our family of five with a fully-equipped kitchen (included everything we needed down to the flatware and blender!), two bathrooms, two bedrooms, a sitting area, AND a washer/dryer.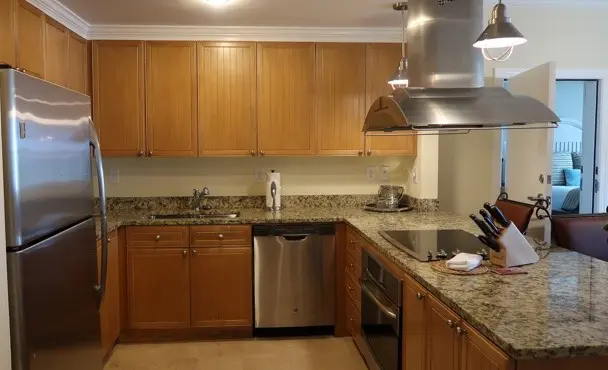 The "kids' room" had two queen beds, a mini-fridge, desk, TV, chair/ottoman and its own bathroom.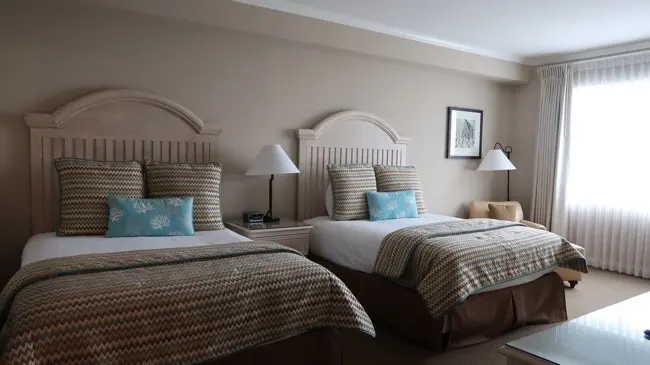 Our room had a giant, king-size bed, large bathroom, TV and its own access to the balcony.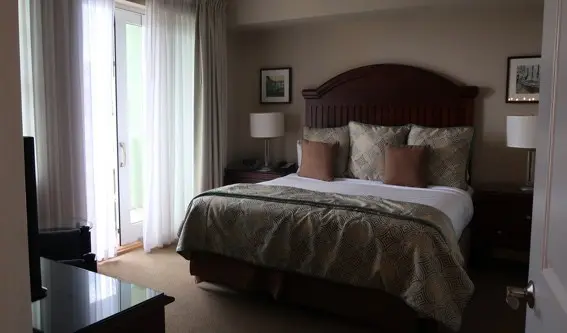 We really think this a perfect room for a family because it allows the kids to go to bed in a separate bedroom early and the parents still have space to watch TV without fear of waking them. Plenty of space!!
To take a tour of our room, watch our video below.
DUNE BUG CLUB
The Dune Bug Club is Wild Dunes Resort's kids programming that offers fun and educational options for kids ages 5-11. All three kids (even though the older two who are a tad older than the age limit!) tapped into their inner artists when they joined the Lil' Picasso activity. They used paints and pastels to create a unique canvas of their own.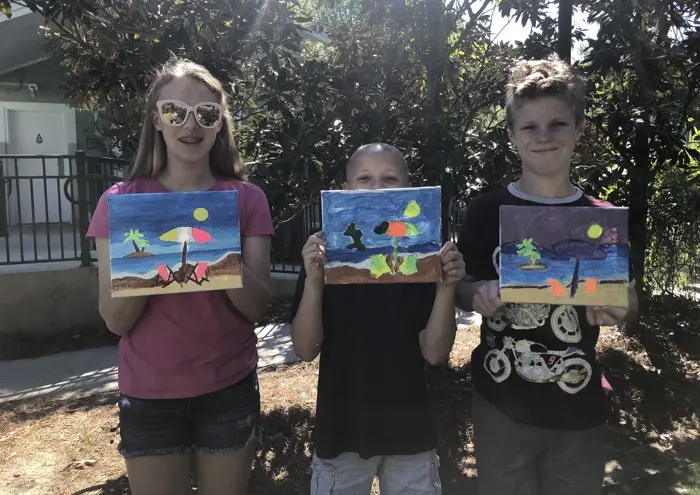 There are other activities throughout the summer for kids such as Ultimate Fort Building, Mad Scientist, Junior Detective and Astronaut Camp.
SWIMMING
Of course, a kids' vacation isn't a vacation without swimming, amIright? The Wild Dunes Resort features 5 pools (including two that are adult-only) throughout the property.
There are two oceanfront "family pools" in the Grand Pavilion just steps from the beach where we spent much of our time.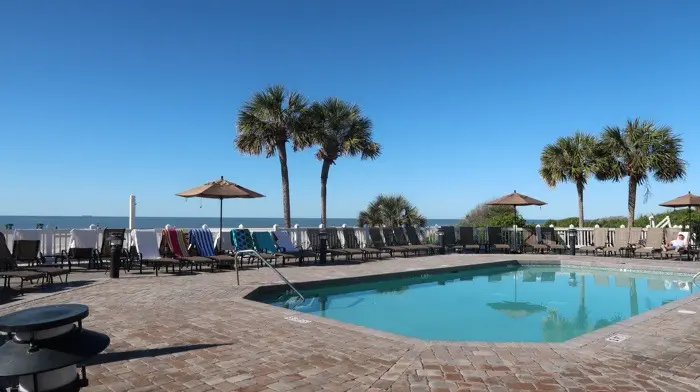 Right behind the Boardwalk Inn Hotel (just a short walk from the Grand Pavilion pools) are the two adults-only pools.
Across the property behind the Sweetgrass Pavilion is a large, lap swimming pool where they also hold swimming lessons, and family-friendly games.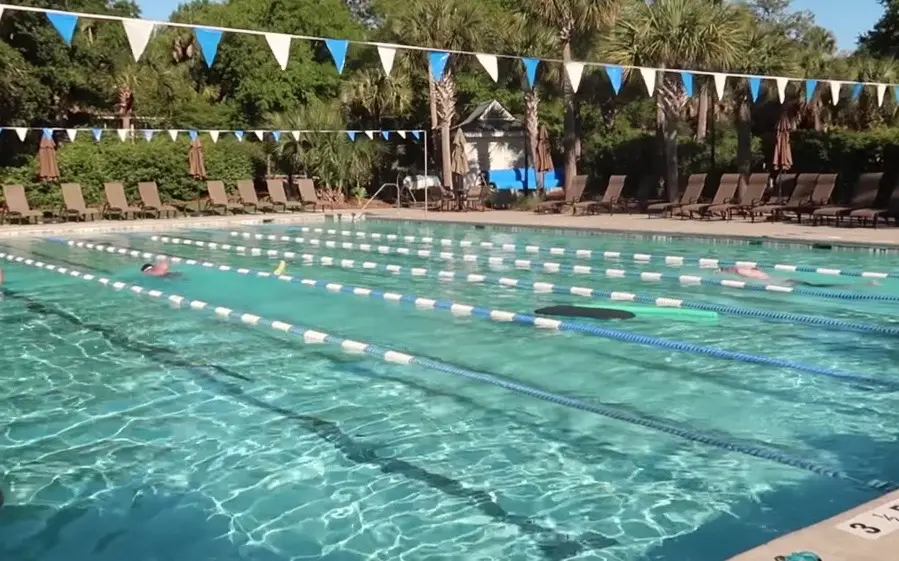 BEACH
We spent a great deal of time at the gorgeous beach just steps from the family pools. There are beach chair and umbrella rentals on the beach but we just brought our own chairs, boogie boards and had a great time. There is also beach volleyball that the kids enjoyed.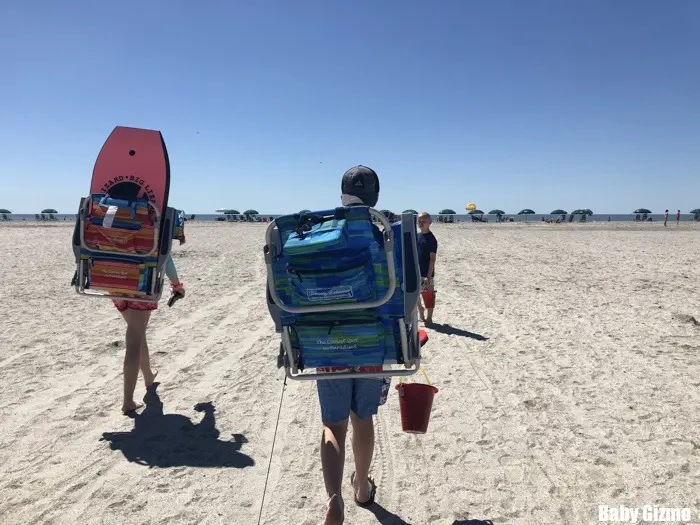 BIKES, SCOOTERS AND RUNNING PATHS
One of our favorite activities on property was taking advantage of the miles of bike/running paths. We brought our own Razor scooters but did rent a bike each day for family rides. The paths are well maintained and provided us with a great family activity before and after swimming/beach time.
We definitely recommend taking advantage of the bike rentals when you are here.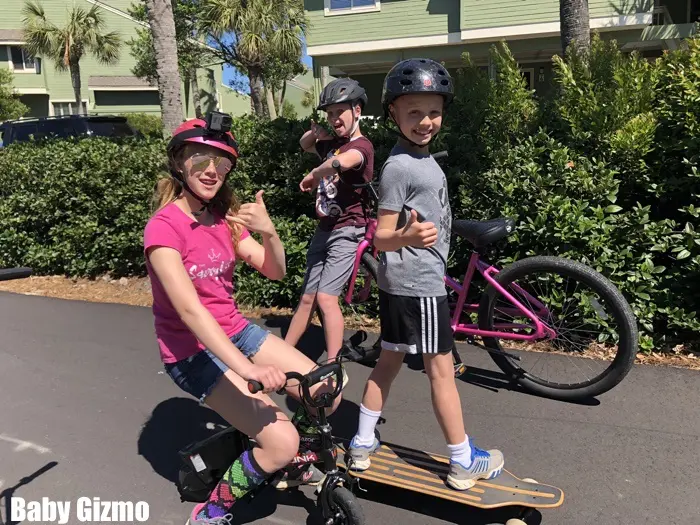 TENNIS & GOLF
While we aren't golfers, there are 36 holes of signature golf courses designed by Tom Fazio on property. Whether you are an avid golfer or looking for golf clinic and lessons, this is a great option.
We are, however, tennis players. The Wild Dunes Resort features a ton of clay and hard courts for tennis whether you'd like to play matches on your own (resort guests can use the courts after noon at no charge!) or sign up for lessons.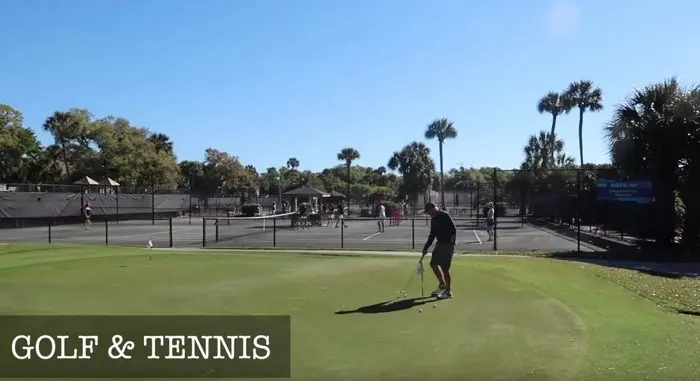 RESTAURANTS
Last, but certainly, not least…let's talk about FOOD. There are a variety of great restaurants on property but our favorite that we ate at was Coastal Provisions. This is a seafood and chop house inside the Boardwalk Inn lobby overlooking the adult pools. Chef de Cuisine Read Wolfe created a delicious menu based around seafood, meat and seasonal vegetables. Don't let the "chop house" label throw you off when planning for your family because Coastal Provisions even has a kids' menu that my kids claimed was the "Best Food of the Week". That says something.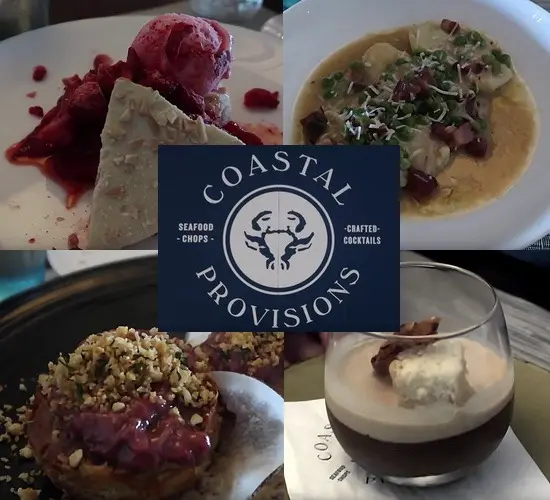 PACK YOUR BAGS
While we didn't get to eat at every restaurant or participate in every activity, I'd have to say that we did enough at the Wild Dunes to warrant a fantastic recommendation that you should put this resort on your Must-Visit List when planning a trip on the southern East Coast.
It is a beautiful property packed with amenities and activities for the entire family. To find out more information, visit: https://www.destinationhotels.com/wild-dunes
Find more great travel locations on VRBO.
FAQs
Where is Wild Dunes located?
With an expansive 1600 acres of private, oceanfront property, the Wild Dunes Resort is located in the northern tip of Isle of Palms, less than 30 minutes from historic Charleston. The address is 5757 Palm Blvd, Isle of Palms, SC 29451.
How far is Wild Dunes Resort from Charleston?
12 miles. Wild Dunes is located 12 miles from downtown Charleston on the Isle of Palms, the Wild Dunes Resort.
Are there alligators on the Isle of Palms?
Yes. While not as common as the number of alligators in Florida, there are alligators on the Isle of Palms.
OTHER TRAVEL BUCKET LIST PLACES TO VISIT
Colorado Springs Family-Friendly Activities
Disclosure: Thanks so much to Wild Dunes Resort for hosting our family for this visit. As always, all thoughts, opinions and statement are our own.