My kiddos go crazy for waffles. Like cheering at the top of their lungs when they come downstairs and see that I've got the waffle maker on the counter.
I mean, I get it, waffles are delicious, and, mamas, when you dollop this blueberry vanilla goat cheese spread on top they are totally out of this world!
Of course you can serve these waffles as is, with butter and syrup and whipped cream. Some of my kids prefer that. But if I'm going to go to effort of standing over a hot waffle iron, I want to enjoy them too. And a fancy goat cheese guarantees that.
WAFFLE INGREDIENTS
2 tablespoons butter
1 cup 2% milk
3/4 cup sour cream
2 eggs
1 1/2 whole wheat flour
1 tablespoon baking powder
1 teaspoon baking soda
1 cup blueberries, fresh or frozen
1 banana, diced
Optional, but mostly required: whipped cream
GOAT CHEESE SPREAD INGREDIENTS
10 ounces of goat cheese
1 1/2 cups blueberries, frozen
2 tablespoons honey
2 tablespoons agave
2 tablespoons vanilla
DIRECTIONS
In a large mixing bowl, combine all the waffle ingredients. I honestly don't separate the wet and dry ingredients. I just dump and speed whisk, then fold in the blueberries and banana chunks.
Pour 1/3 cup of waffle batter on to a pre-heated and greased waffle iron and allow to cook. That's that for the waffles! For our waffle maker and this recipe I usually get six waffles.
The goat cheese spread is a little more intense, but you can prepare it ahead of time and keep it in the refrigerator.
Over medium heat, combine frozen blueberries, honey, agave, and vanilla. Bring to a slow boil and reduce the heat to a simmer. Mash and stir every few minutes and when the mixture slightly thickens, it's done. About 5-10 minutes.
Remove from heat and cool to room temperature. Add goat cheese log to a mixing bowl and mash. Pour blueberry mixture over the top and gently stir. You don't want the goat cheese to be turned completely blue so just barely incorporate. Lay out a piece of plastic wrap and scoop the goat cheese mixture on top. Reform into a log, similar to how it was originally purchased, just now, with an amazing vanilla blueberry flair. Refrigerate until you are ready to serve.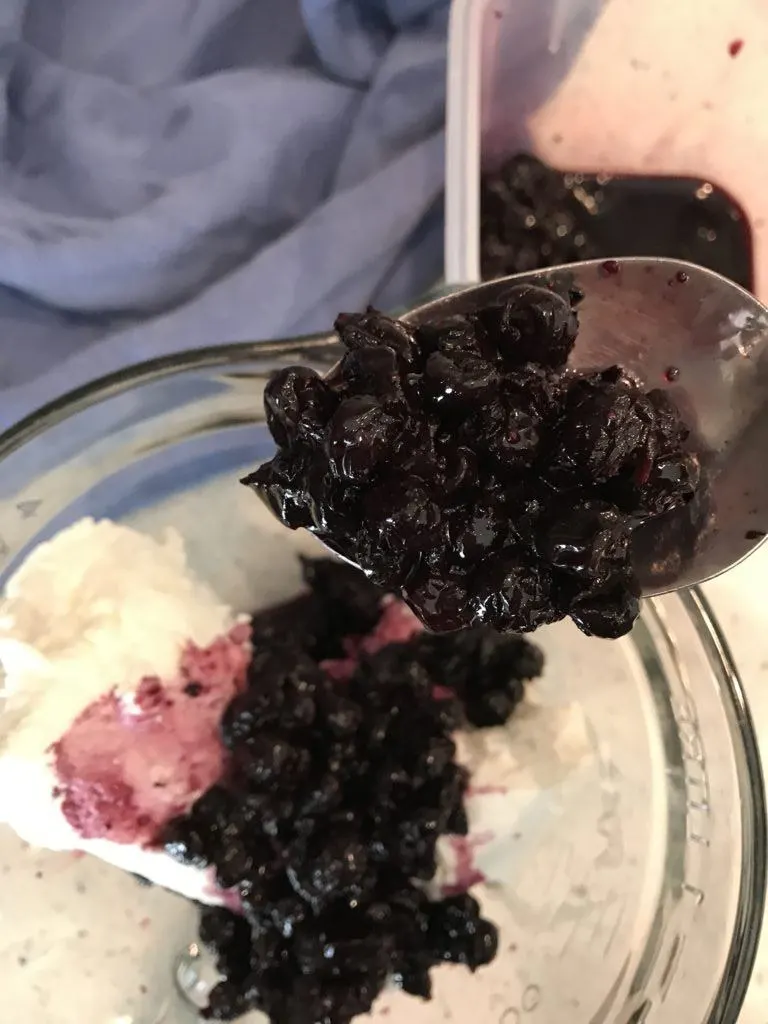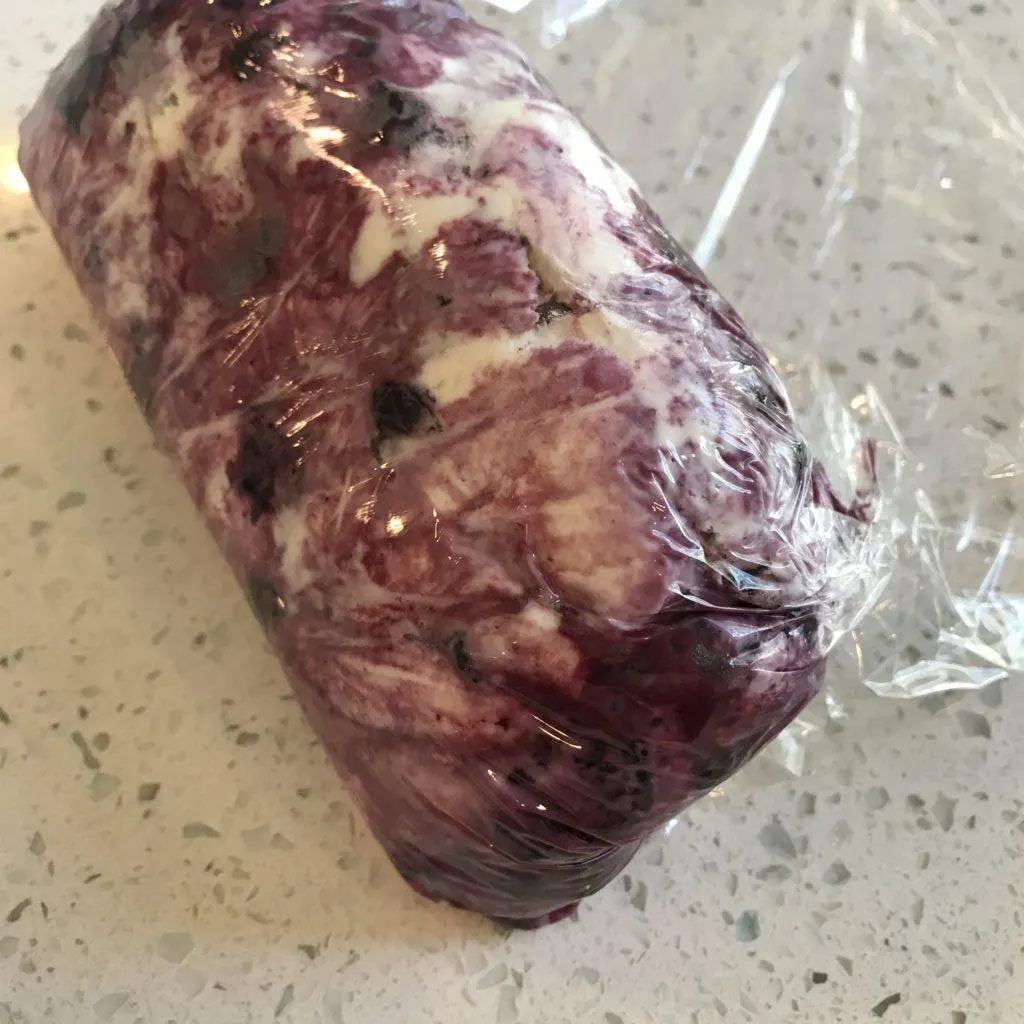 Now, a goat cheese note … This isn't the only thing you can serve the it with. It's divine spread on French bread and perfect on a cracker platter. If you charcuterie, definitely include a log of this extra special goat cheese on your spread. Everyone will thank you!