If you clicked on this recipe, I'm super happy! You're going to love and adore it! It's the perfect dessert for picnics, birthdays or just because afternoons. Have you heard of Hello Dollies?
I know it takes some guts to take a chance on a dessert called "Hello Dollies." It's an odd name, and no, I have no idea where it came from. Well, other than the fact that this is what my grandma called them. I think others call them Seven Layer Bars, but this recipe doesn't have seven layers so I went with Hello Dollies and figure that when you take your first bite and exclaim, "Whoa! Whoa! Hello Dolly!" it will all make sense 🙂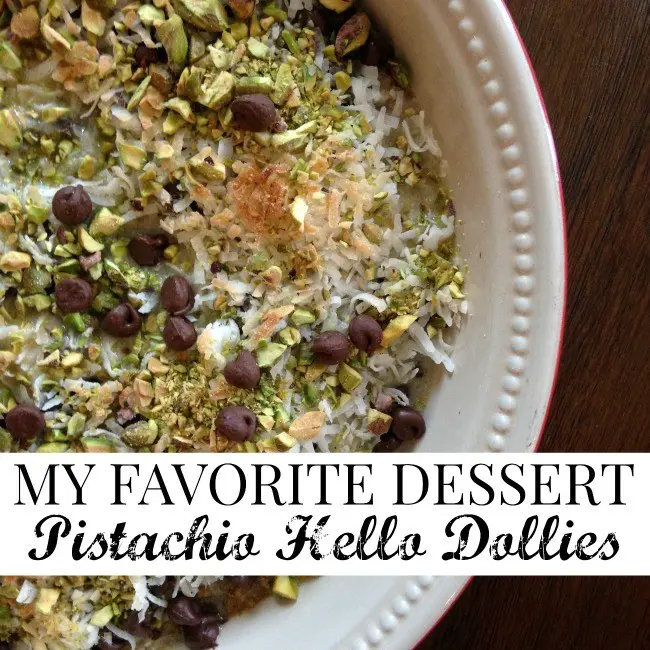 INGREDIENTS
1 graham cracker crust (or make your own with 1 stick of melted butter and crushed graham crackers)
10 ounces coconut flakes
1 cup chocolate chips
1 can sweetened condensed milk
1/2 cup chopped pistachios, shelled
DIRECTIONS
First, prepare your graham cracker crust. If I have a pre-prepped one handy I use that … it's just easier. They're usually in the baking aisle near the pudding. But if I don't and I have a hankering for Hello Dollies I'll make my own crust by melting 1 stick of butter and mashing graham crackers into it until a crusty mixture develops. Then, simply press it into your baking dish until an even layer develops.
Sprinkle the bottom of the crust with a thick layer of coconut flakes. Layer with chocolate chips, another layer of coconut flakes and finally some more chocolate chips. Pour one can of sweetened condensed milk on the top, as evenly as possible to "glue" it all together. Top with chopped pistachios and bake at 375 degrees for 15-20 minutes. Technically, traditional Hello Dollies call for chopped walnuts. But why use walnuts when you can use pistachios. 10x better!
Allow your Hello Dollies to cool before cutting them into slices or bars. The sweetened condensed milk needs to set for an hour. If it doesn't, you'll end up with a soupy (but delicious) mess!
MORE DESSERT RECIPES
Monkey Bread with Cream Cheese Frosting