Today is the day! I know I've been hinting, teasing and showing sneak peeks of my HUGE master closet transformation, but today we take you inside for a master closet makeover reveal. A couple weeks ago we showed you inside my husband's smaller master closet but this is the be-all end-all of closets.
Okay, for closets for the average person and not a celebrity in a multi-million mansion. I can't compete with that. What I can do is make my enormous master closet amazing with some organization and closet organizers from Easy Closets.
To continue our follow through on our New Year's resolution to get more organized in our new house, we teamed up with Easy Closets to get both closets in shape and organized with some amazing systems. I have to say that my master closet turned out amazing. My planned closet chandeliers and center island are on hold for now due to budget reasons but the rest of the closet is ready to debut.
MASTER CLOSET BEFORE
Here is the embarrassing before photo…
HOW WE TRANSFORMED THE MASTER CLOSET
Clearly, give me space with no organization and I'm a complete disaster. But I can be helped, I promise, and I have Easy Closets to thank for that. It took us about 3-4 days (not entire days but part of the days!) and some patience of working closely with my husband, but we did it. We installed the entire closet systems ourselves.
That's how Easy Closets works. They team you up with a personal designer to design a closet that best fits your needs. Then they ship everything to you with detailed instructions and you get to work.
We started with the color. With 11 colors to choose from, we decided on the darkest option – French Roast – and with 18 different handles and knobs, we had no problem picking hardware we knew would match the rest of the bathroom.
We spent time on the phone with our personal designer to pick out how I wanted my closet set up. I had to decide how many drawers, hanging rods, shelves and other accessories I thought I would use. Here is the closet when we finished installing the Easy Closets:
MASTER CLOSET MAKEOVER REVEAL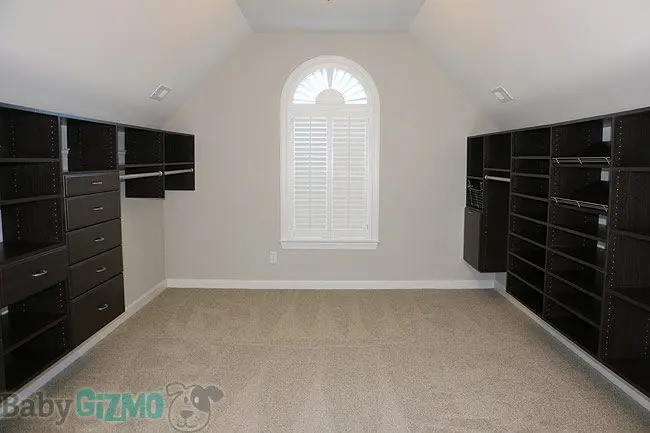 And here is the closet filled up with my clothes and with the finishing touches: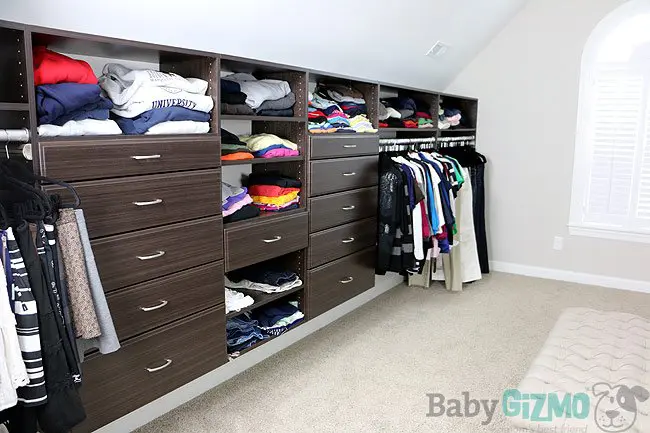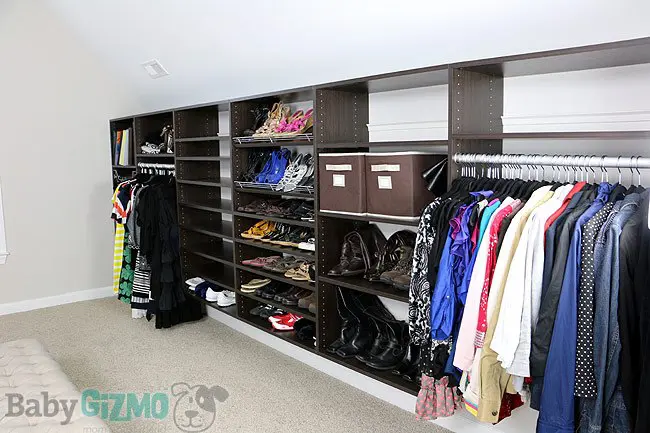 Since I wasn't going to have a fabulous closet with a dirty clothes laundry basket on the floor, one of my must-have accessories that I knew I needed to add was a hamper. The hamper gives me a place for my dirty clothes but hides it away so I don't have to look at it until laundry day.
One of my favorite extra accessories in the closet is the hideaway ironing board. Hidden behind a drawer face is a handy, slide-out ironing board and I love it. No need to store a big ironing board anymore and it's super easy to use.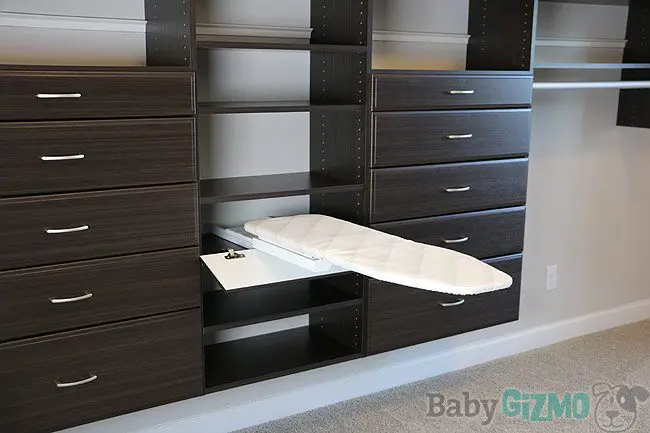 Another bonus accessory that I added was a jewelry drawer. I hesitate to call it a standard jewelry drawer because honestly I don't have any fancy jewelry. All costume jewelry but now it is organized costume jewelry. 🙂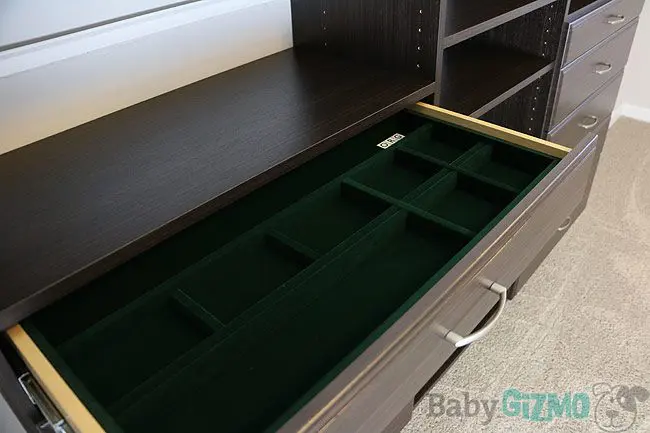 I have a large window in my closet that provides a great deal of light but also allows the neighbors to see right in. In order to have a little privacy when I'm getting dressed, we decided to cover the window with Simplicity Shutters from Blinds.com that matched the entire first floor of our house. We actually installed the shutters (including that beautiful custom made arch) ourselves. That's the beauty of Blinds.com. You order from them and they are so easy to put in yourself so no installation fees or handyman needed.
SHOP Simplicity Shutters at Blinds.com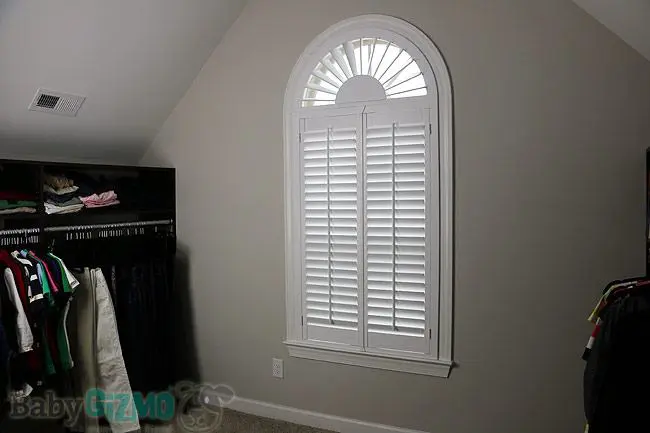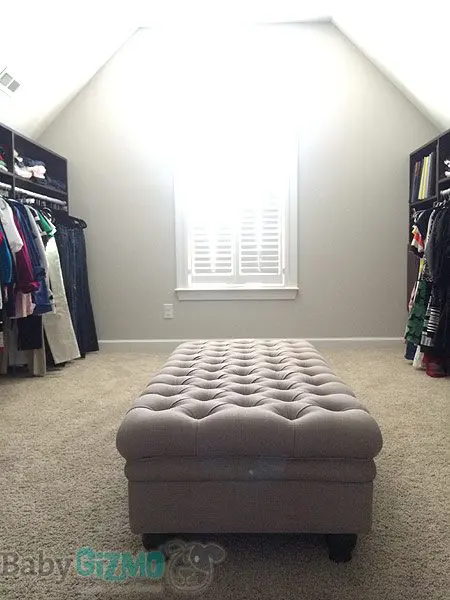 While the original idea was to put a huge island in the center of the closet and two chandeliers, we cut back on our budget so those things are on hold for now. Since I didn't really need the extra storage space of an island (I still have empty shelves!), we picked out a great ottoman from Overstock.com. The ottoman provides a great place to sit and put on shoes and socks while still keeping the closet looking amazing.
I have so much storage with all the shelves, drawers, hanging rods and baskets that I don't even use it all at this point. I think we did an amazing job turning our huge closet from ordinary big space to extraordinary. What did you think of our master closet makeover?
For more information on Easy Closets, visit their site at www.EasyClosets.com
For more information on Simplicity Shutters, visit their site at www.Blinds.com.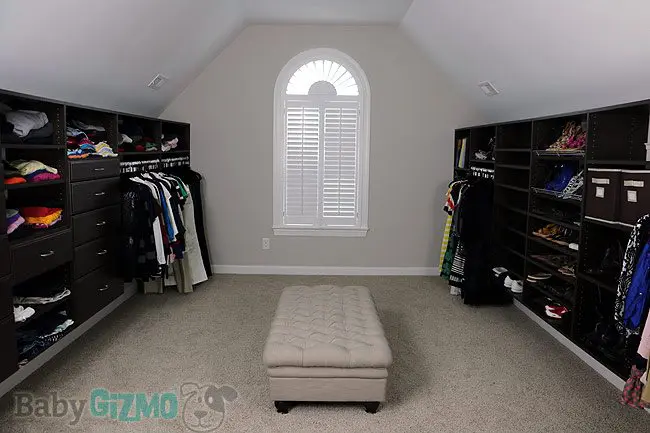 MORE HOME DECOR ARTICLES
*For more information on the accessories in the photos, make sure to watch the full video episode above.
**Disclosure: Thanks to EasyClosets.com and Blinds.com for sponsoring this episode of our "At Home with Baby Gizmo" video series.