A few weeks ago, we arrived in Wilmington, NC for Spring Break with no plans except to hit the beach. When we pulled up to our hotel and my 11 year old saw the USS North Carolina Battleship across the river from downtown Wilmington, everything changed. He immediately was mesmerized by the ship and insisted that we take a tour.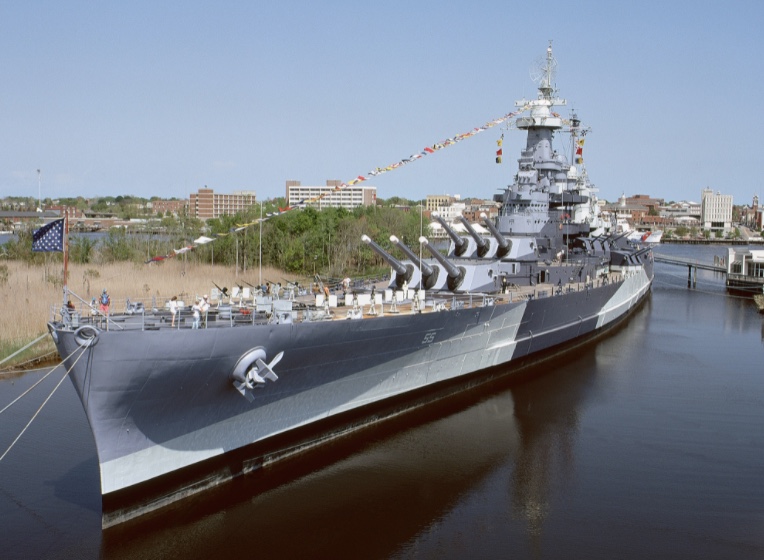 It really wasn't on our vacation plans, but like I said, our plans were subject to change from just time at the beach. He was so insistent that we visit the battleship before the beach the next morning and that's exactly what we did. When a child shows so much unexpected interest in a piece of history, you definitely encourage it.
We toured the USS North Carolina Battleship on a Thursday morning in April, so the crowds weren't bad at all. I hate to even use the word crowds because it seemed to be the perfect non-busy time to go.
What is the USS North Carolina Battleship?
USS North Carolina (BB-55) is the lead ship of the North Carolina class of fast battleships, the first vessel of the type built for the United States Navy. Built under the Washington Treaty system, North Carolina's design was limited in displacement and armament, though the United States used a clause in the Second London Naval Treaty to increase the main battery from the original armament of nine 14-inch (356 mm) guns to nine 16 in (406 mm) guns. The ship was laid down in 1937 and completed in April 1941, while the United States was still neutral during World War II.
North Carolina was 728 feet 9 inches (222.12 m) long overall and had a beam of 108 ft 4 in (33.02 m) and a draft of 32 ft 11.5 in (10.046 m). Her standard displacement amounted to 35,000 long tons (36,000 t) and increased to 44,800 long tons (45,500 t) at full combat load. The ship was powered by four General Electric steam turbines, each driving one propeller shaft, using steam provided by eight oil-fired Babcock & Wilcox boilers. Rated at 121,000 shaft horsepower (90,000 kW), the turbines were intended to give a top speed of 28 knots (52 km/h; 32 mph). The ship had a cruising range of 17,450 nautical miles (32,320 km; 20,080 mi) at a speed of 15 knots (28 km/h; 17 mph). She carried three Vought OS2U Kingfisher floatplanes for aerial reconnaissance, which were launched by a pair of aircraft catapults on her fantail. Her peace time crew numbered 1,800 officers and enlisted men, but during the war the crew swelled to 99 officers and 2,035 enlisted.
The ship was armed with a main battery of nine 16 in /45 caliber Mark 6 guns in a trio of three-gun turrets on the centerline, two of which were placed in a superfiring pair forward, with the third aft. The secondary battery consisted of twenty 5 in (127 mm) /38 caliber dual purpose guns mounted in twin turrets clustered amidships, five turrets on either side. As designed, the ship was equipped with an anti-aircraft battery of sixteen 1.1 in (28 mm) guns and eighteen .50-caliber (12.7 mm) M2 Browning machine guns,[b] but her anti-aircraft battery was expanded greatly during her career.
Source: wikipedia.com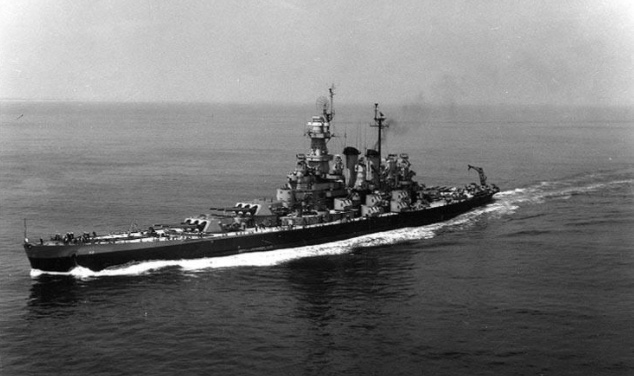 What can you do on the Battleship?
The USS North Carolina offers a self-guided tour and encourages visitors to walk the decks and envision the daily life and fierce combat the crew faced during World War II.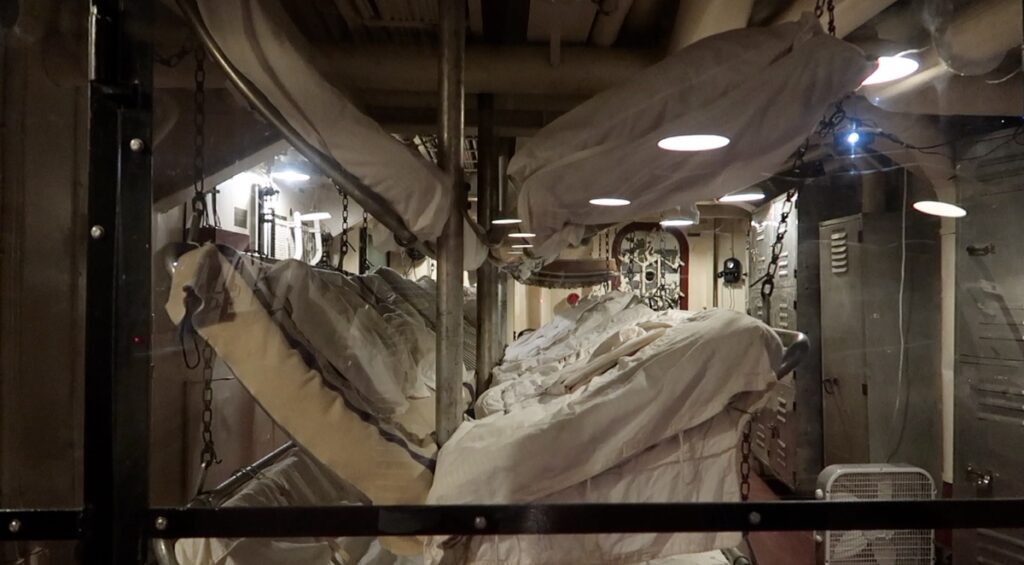 There are plenty of hand-on things for kids to touch (lots of hand sanitizer everywhere!) and explore. While walking around the different decks of the ship, you'll see photographs, mementos, oral histories and exhibits to share what the men aboard went through.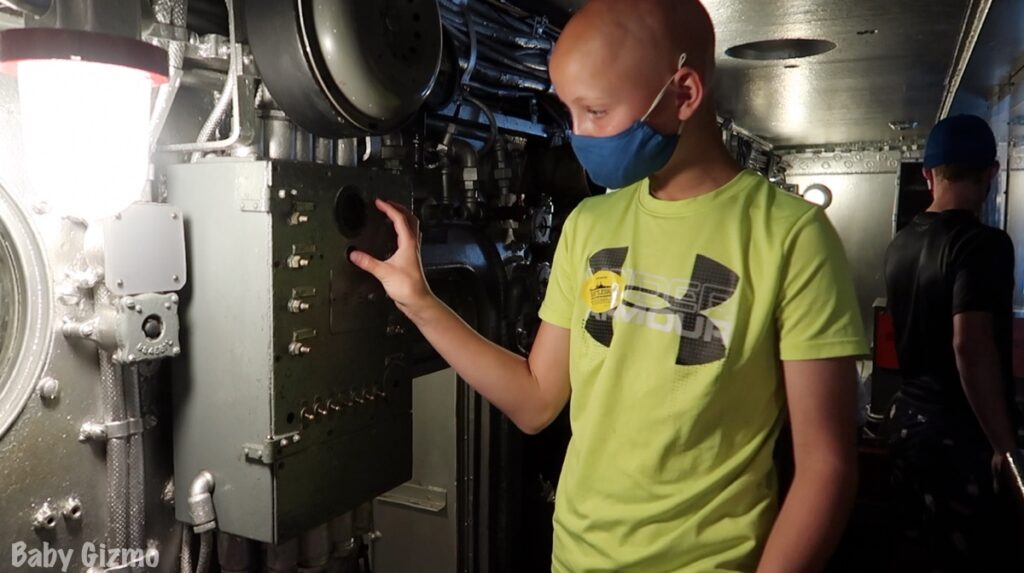 Our family had the best time exploring the USS North Carolina. It took about 2-3 hours to completely explore the ship's multiple decks and had a great time seeing where the sailors slept, ate, visited the dentist and barber, worked and so much more.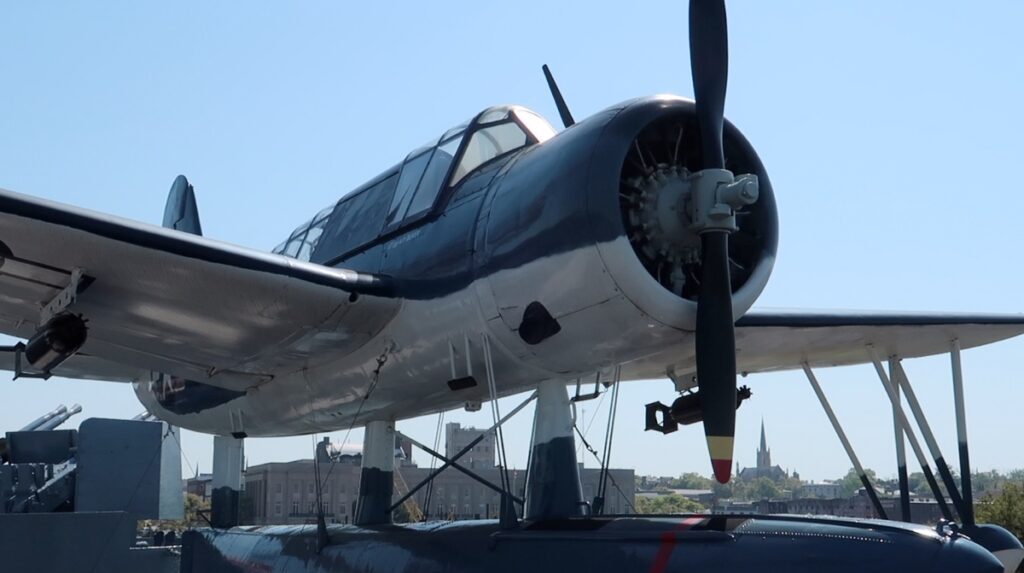 How Much is a Tour of the USS North Carolina Battleship?
The USS North Carolina is open daily from 8 a.m. to 5 p.m. for self-guided tours with the last ticket sold at 4 p.m.
Adults: 12 & over: $14.00
Seniors: 65 & over: $10.00
Military: Active or retired, military spouses & dependents, with ID cards: $10.00
Children: 6 through 11: $6.00
Children: 5 & under: Free
There are also group admission prices and ADA admission.
What to wear on a tour of the Battleship?
We recommend wearing a shirt, pants or shorts and comfortable shoes. Since there is a ton of walking up and down steep stairs and ladders, we recommend that ladies DO NOT wear skirts or dresses because the person below you on the ladders will get quite the show.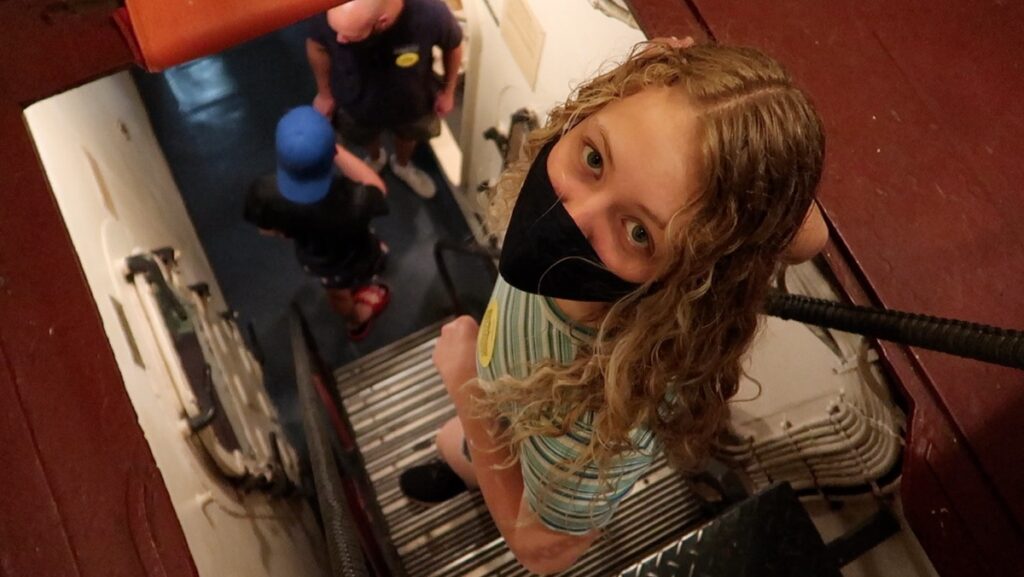 USS North Carolina Battleship Video
Take a peek at the video we filmed during our visit to the battleship.
If you are looking for something to do with the family when visiting the Wilmington, North Carolina, we highly recommend a tour of the USS North Carolina Battleship!
OTHER NORTH CAROLINA TRAVEL GUIDES
Outer Banks with Teens Travel Guide
North Myrtle Beach Travel Guide
Great Wolf Lodge Travel Review
Whalebone Ocean Cottages Outer Banks