According to a national survey completed by today's sponsor, Foster Farms, "81 percent of Americans care more about the quality of their ingredients than they did 5 years ago". That doesn't surprise me one bit! I'm part of that majority and I bet you are too. Since having children the quality of the ingredients we eat at home, like chicken, has definitely become more important to me. More than ever, I want to know where our food comes from and how it is raised.
I'm also big on taste and ease. When I log a recipe into our family's cookbook it has to be one that we all love and one that took me a minimal amount of time to prepare. This recipe for Citrus Balsamic Glazed Chicken served alongside polenta and asparagus fits the bill perfectly. It falls into the category of The New Comfort Food (pretty much my favorite genre of meals!) and went from ingredients to my plate in less than 30 minutes.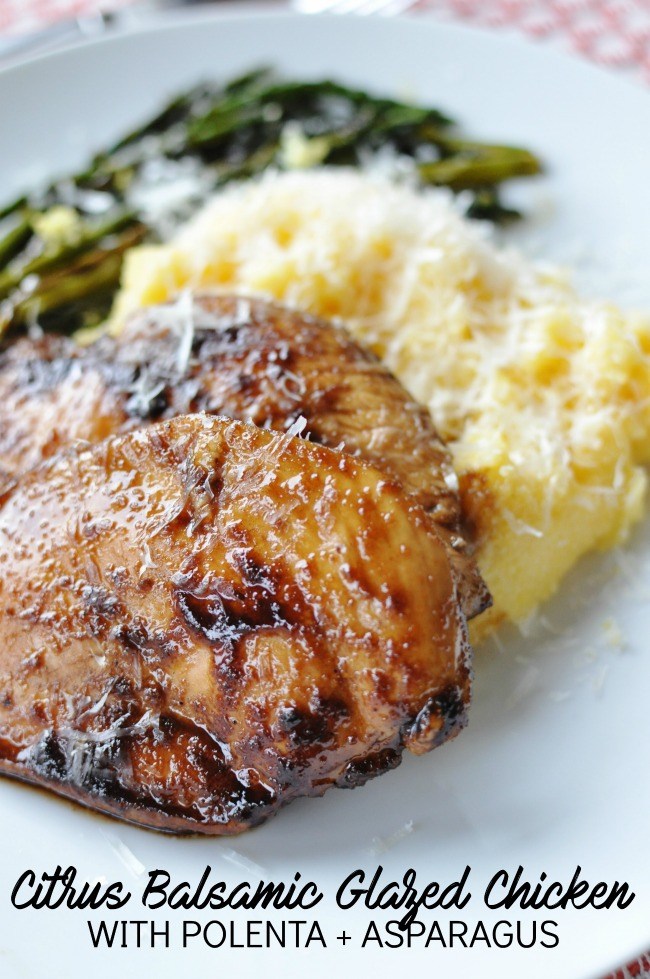 Mouth watering yet?
First, let me share a bit more about The New Comfort Food. It's your ticket to menu planning this week. And, well, every week! Because it's awesome. And all sorts of delicious. The New Comfort Food is a movement spurred by Foster Farms. The New Comfort Food is saying goodbye to heavy, rich foods and hello to fresh, local options. That means you can enjoy comfort food every day! It doesn't have to be a treat reserved for holidays and cheat days. The New Comfort Food focuses on health, wellness, and meals that nourish the people you love the most.
That national survey I mentioned also found that "80 percent of Americans are turning to chicken as a staple for their comfort food meals and are prioritizing chicken raised with no antibiotics, hormones or steroids." I fall into that 80 percent. You? I mean, there is no way I want antibiotics, hormones or steroids anywhere near the food my family eats! No thank you! So, to Foster Farms I say a hearty THANK YOU for Simply Raised chicken. I dedicate this melt in your mouth winner winner chicken dinner to you!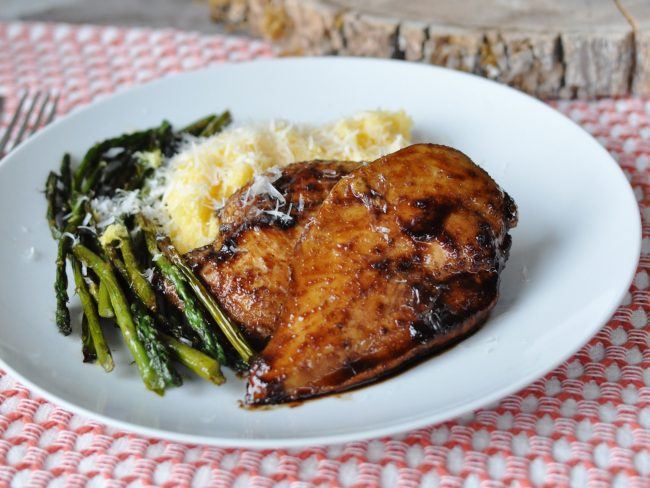 CITRUS BALSAMIC GLAZED CHICKEN WITH POLENTA + ASPARAGUS
Ingredients
4 Foster Farms Simply Raised thin-sliced breast fillets
1/2 cup citrus infused balsamic vinegar (I used tangerine balsamic, but a lemon infusion would be lovely too!)
2 tablespoons honey
1 teaspoon brown mustard
1 tablespoon granulated garlic (fresh is fine too, use 3 minced cloves instead if you like)
Sea salt and pepper
Polenta
3 tablespoons butter
Asparagus, thin stalks
1 tablespoon lemon zest
Parmesan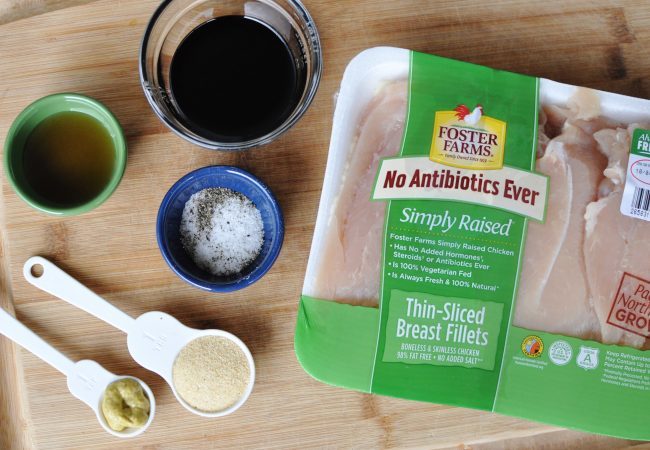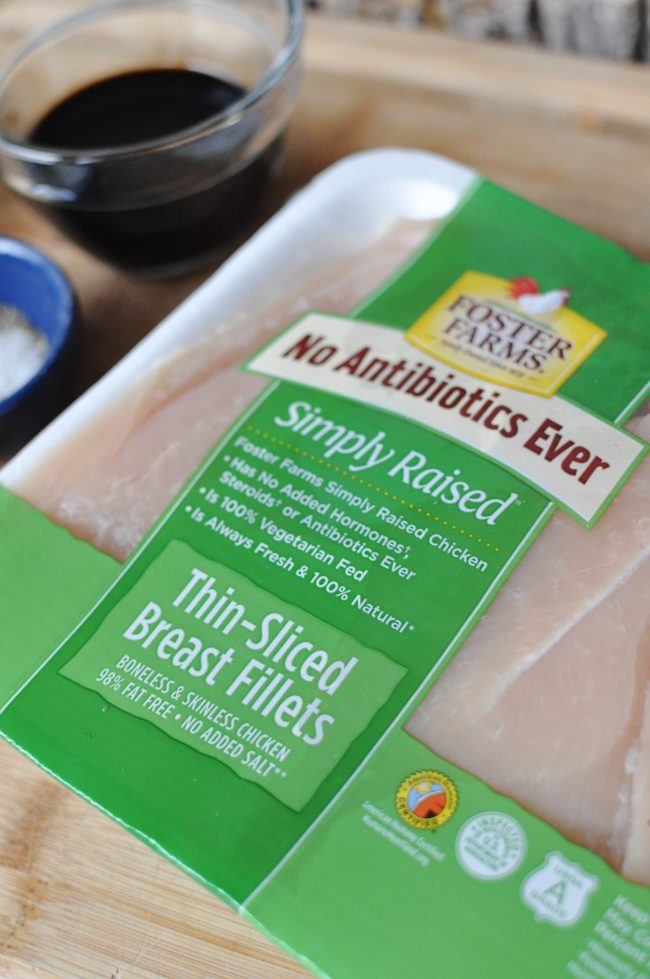 Directions
If you're aiming to serve this meal in 30 minutes or less, follow these steps and you'll be enjoying a hot plate in a jif!
First, mix up your marinade. Whisk vinegar, honey, mustard, garlic, salt, and pepper in a small bowl. In a baking dish or plastic bag cover the breast fillets in the mixture and allow to marinate for 20 minutes in the fridge. Longer if you want.
While your chicken marinates heat a cast iron pan on the stove and melt the butter. Trim asparagus and toss into the pan, coating well. Cover with a lid and allow to steam for 7-10 minutes.
While the asparagus is steaming, fix up your polenta. Just follow the directions on the package of whatever brand you choose. I buy a vacuum sealed block and when mixed with boiling salted water it's ready to serve in 3 minutes!
Remove asparagus from the pan. Set aside. In the same pan you steamed your asparagus (don't want to waste that buttery goodness!) cook each chicken fillet over medium heat. The thin cuts are, well, thin cut, so they cook up fast. Cook on the first side for 2-3 minutes, then flip over for an additional 1-2 minutes. If there is any extra marinade make sure you scoop all that into the pan while the chicken cooks as well. It's too delicious to waste!
Now, everything is done and you're ready to plate! Start with a base of polenta, fan with asparagus and lay one or two chicken breast fillets on the top. Drizzle with a little sauce and top the asparagus with lemon zest and everything with a sprinkle of Parmesan!
The only thing that went wrong with this recipe? I wish I would have made more sauce! Seriously, double this recipe. It was the perfect complement to the asparagus, polenta, and chicken. We had to use a spatula to get every last drop out of the cast iron!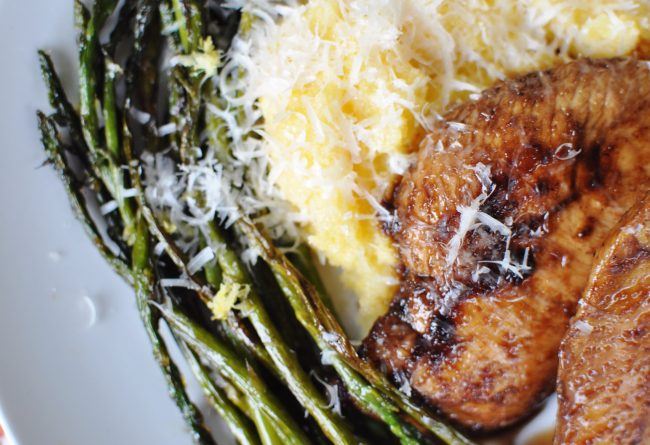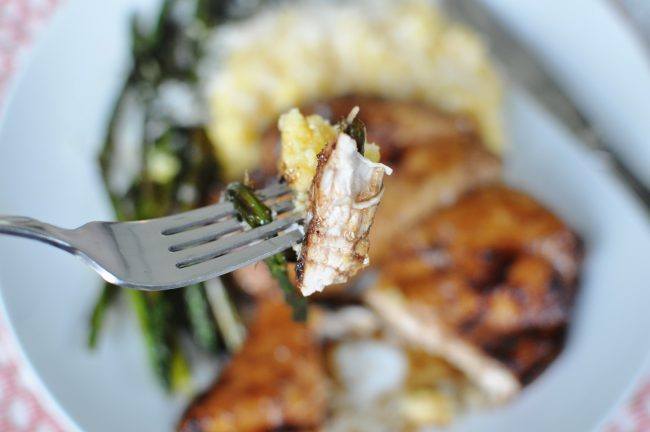 This is a sponsored post written by me on behalf of Foster Farms Simply Raised Chicken.
More Chicken Recipes
Artichoke Stuffed Chicken Breast
White Peach, Chicken, Walnut and Goat Cheese Salad
Slow Cooker Honey Garlic Chicken