Up until about six months ago, my daughter refused to eat chicken nuggets. She still only nibbles at French fries. She doesn't do any breaded meat (aside from the above-noted nuggets) and won't touch anything made of white potatoes. She also won't eat burgers. And don't even try to pass off buttered noodles as a meal. In a nutshell, it's really hard to feed the kid off of a restaurant kids' menu. This doesn't seem like a really big problem until I mention the fact that I hate cooking. I just came across a post on Facebook that said, "I went into the kitchen looking for food, but all I found were ingredients." Story of my life—except that it's entirely possible there won't be much by way of ingredients either. I do have a nice selection of cereal, though! Anyway, my husband and I were in the habit of eating out a lot, but knowing that we're going to pick out (and pay for) something for the child that she is going to refuse to eat has us eating at home more often than we used to.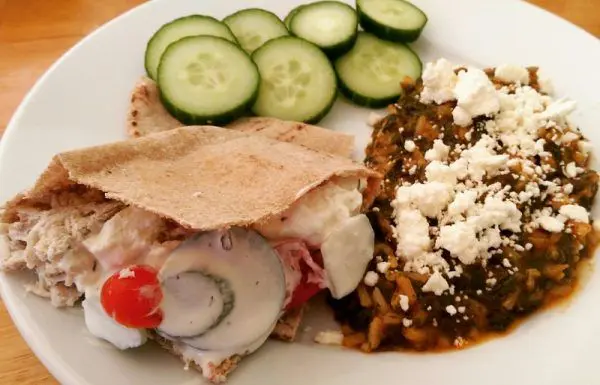 If I'm going to be cooking, I need an easy no-brainer recipe that uses ingredients I'm likely to have around my house, or that I can get last-minute at the grocery store down the street. One of my go-to meals is this slow-cooker Greek chicken paired with spanakorizo (a rice side dish). Because I avoid cooking whenever I can and I'm not so great at meal planning, I have an extensive collection of dried herbs and spices and a nice variety of frozen vegetables. I sub out the fresh onions in both recipes with dried minced onions or onion powder and substitute the fresh spinach with about eight ounces of frozen spinach.
I even get creative and add my own special touches: sliced grape tomatoes, cucumbers, and pitted Kalamata olives as vegetable side dishes! I know, I know: I'm amazing. I even serve the chicken with (store-bought) tzatiki, for that authentic touch. My daughter loves this meal, and it's a big hit with guests, too. As a matter of fact, I think that the first time I served it, I was experimenting on friends who were over for dinner.
This meal makes a lot, and is easy to double. The chicken is good cold; mix it with leftover tzatziki or plain Greek yogurt and put it in a pita for a Greek-inspired chicken salad sandwich! If you're not all about the cold sandwich treatment, both the rice and chicken also reheat very nicely, so this meal lends itself well to leftovers.
And if you're like me and must have some kind of sweet at the end of your meal, I've got a relatively healthy suggestion for you. Try plain whole-fat Greek yogurt with honey drizzled on top; the whole-fat yogurt is creamier, more filling, and more of a treat. You can add some walnuts or pistachios and serve with dried figs, too.
Bon appetite! Or try it in Greek: Kali orexi!
More Chicken Recipes
Artichoke Stuffed Chicken Breast
White Peach, Chicken, Walnut and Goat Cheese Salad
Slow Cooker Honey Garlic Chicken