Simple Summer Strawberry Cake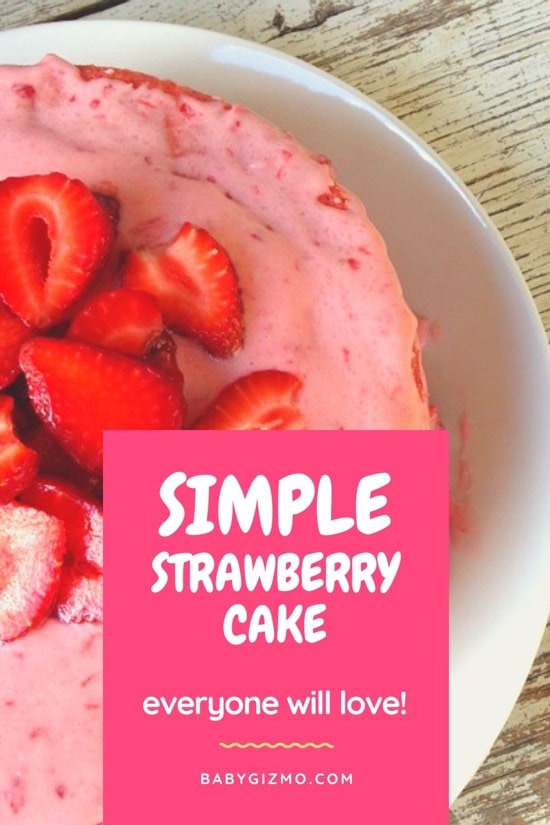 Here in the Pacific Northwest the school year is wrapping up and berries are in full swing! In fact, from what I hear at the local farm stands, strawberries are on the verge of ending their season a bit early and before we know it, raspberries will be on their way! And yes, if you're reading my mind, this recipe could also be done with raspberries or blueberries or blackberries … you name it!
Before you miss out on the scrumptious sweetness of your local berries, grab a flat and get to work mixing up this decadent cake. Inspired by this recipe, it was the perfect afternoon cooking activity for my daughter and her grandma, and such a wonderful treat after dinner! Personally I think you'd score mad points arriving at a potluck picnic with this too. Or even better, how about serving this pretty cake at your daughter's first birthday party?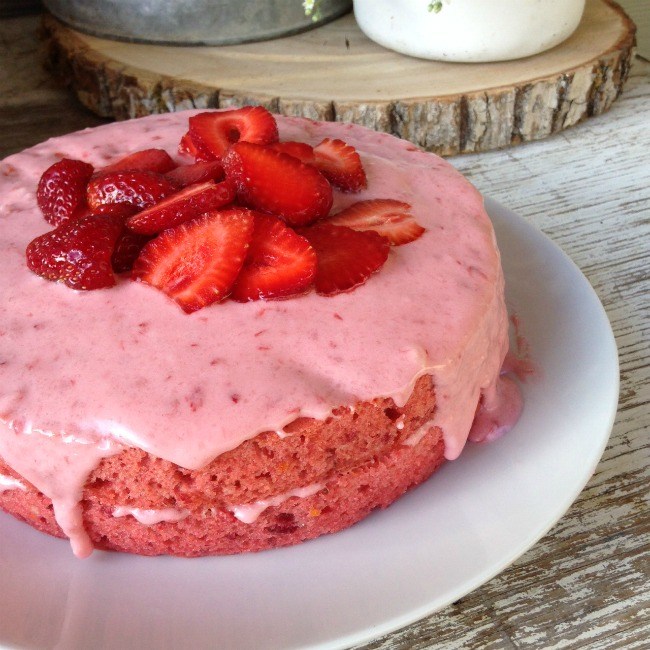 Cake Ingredients
1 box white cake mix
1 small box 

strawberry Jell-O

2 pints fresh strawberries, washed and rinsed with stems removed
4 eggs
½ cup vegetable oil
¼ cup water
Frosting Ingredients
4 tablespoons butter, softened
4 ounces cream cheese, softened
1 pint fresh strawberries, washed and rinsed with stem removed
3 cups powdered sugar
Fresh sliced strawberries for garnish
Directions
First things first, round up two 9 inch cake pans and preheat your oven to 350 degrees.
In a large mixing bowl stir together your cake mix and Jell-O. To that, eggs, oil and water. Finally add in your berries. If you're using a KitchenAid or electric mixer there is no need to pre-chop them. If you're stirring by hand, cut your strawberries into bite-size pieces first.
Evenly pour your batter into the two cake pans (be sure these are well greased with oil or butter!) and bake for 20 minutes. Check with a toothpick to be sure the centers are fully set before removing from oven.
While your cakes bake you can prep your frosting by whisking together the butter, cream cheese and berries. Add powdered sugar one cup at a time. If the frosting is too thick, add a dash of milk until desired consistency is reached.
To build your pretty cake, place one, cooled cake on a plate and top with frosting. Add your second cake on top and spread frosting on the top allowing it to slightly drip over the sides. Top with berries and enjoy!